Pirates of The Caribbean: Dead Men Tell No Tales Review By The Mom Approved Blog
Pirates of The Caribbean: Dead Men Tell No Tales  (aka Pirates 5) has been highly anticipated by Pirates franchise fans, but is it appropriate for your kiddos? Don't worry, I have a Mom Approved (spoiler free) Pirates of The Caribbean: Dead Men Tell No Tales review to the rescue!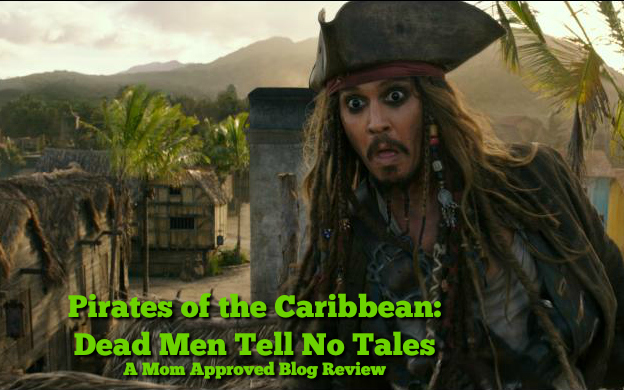 Let me tell you a Tale (the Storyline) without spoilers:
Pirates of the Caribbean: Dead Men Tell No Tales finds Johnny Depp returning as quirky Captain Jack Sparrow without a ship and down on his luck facing deadly ghost sailors, led by the pretty creepy and terrifying Captain Salazar (Javier Bardem), who escape from the Devil's Triangle bent on killing every pirate at sea—notably Jack.
The legendary Trident of Poseidon is Sparrow's only chance of defeating the dead, but to find it he must forge an uneasy alliance with newcomers Carina Smyth (Kaya Scodelario), a brilliant and beautiful astronomer, Henry (Brenton Thwaites), a headstrong young sailor in the Royal Navy. At the helm of the Dying Gull, his pitifully small and shabby ship, Captain Jack seeks not only to reverse his recent spate of ill fortune, but to save his very life from the most formidable and malicious foe he has ever faced.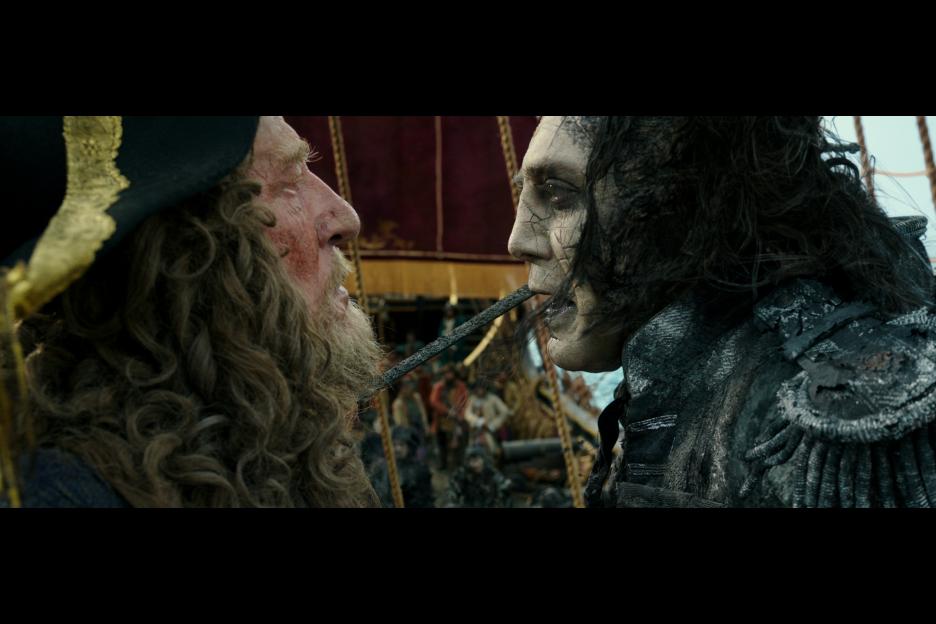 Avast ye parents! What ye should consider:
Pirates of the Caribbean: Dead Men Tell No Tales earns its PG-13 rating, but I'm going to call this one a soft PG-13 rating.
Plenty of typical Pirates battle violence! If you are a fan of the franchise, you can expect the same degree of violence with sword fighting, gun slinging, hand to hand combat, cannon blazing, swashbuckling battles set to a great soundtrack. Men are shot in the water while begging for mercy, but it is mostly off screen. There are a lot of pirate/soldier deaths (like the other Pirate movies- but Salazar seems a teeny bit more "ruthless").
The gory-factor is typical of previous Pirates movies: people get stabbed, shot, there are floating bodies in the water, executions by hanging (camera in panning and zoomed out) and half-there (thanks to CGI) ghost sailors. Salazar is a little extra gross as his mouth "drools" a thick dark liquid in his closeups, but it adds to his creepy factor and is mostly in the beginning of the movie. There are 2 heads in a basket under the guillotine, but they are not overly gory.
Alcohol use: it IS a Pirates movie, so you see plenty of rum, but it seems there is a bit more than in previous movies as Jack Sparrow seems to have hit "rock bottom" and in a few of scenes, Johnny Depp seems actually drunk, not silly acting like a pirate drunk, and it felt a little off.
There is primary character death (not telling who)
Monsters: 2 words. Ghost Sharks. While CGI, these guys made me jump and spill my popcorn to the amusement of my husband sitting next to me.
If this is an issue for your family, there is mention of witchcraft, but again this IS a Pirates movie- curses, a witch and the implication that people are a witch (think Salem witch trials) and such are present, but only to support the storyline and no worse than any other Pirates movie.

What parents don't need to worry about:
Not a lot of sexy stuff, period-typical cleavage in costumes, "your momma" style ribbing and some sexual innuendo that will very likely go over younger heads:

A short funny scene discussing Carina being a Horologist (a scientist that studies time), but chances are the younger kiddos will snicker along with older viewers without knowing why.
Jack finds himself waking up (drunk of course) next to a woman (who is clothed) both with messy hair.
A scene in the boat where Henry tells Jack, "I saw her ankles" and he says something like " you would have seen more if you had kept your cake-hole shut."
Typical Jack Sparrow, the gentleman, stuff.

A familiar and fun soundtrack.
No language issues. Wench-type language is as bad as it gets.
Scenes of bravery, selflessness and unsung heroes make for great talking points after the movie.
As a bonus, Carina is a beautiful, pretty funny, strong female character you will love for her brain!
Arrrrrr you wondering if your little mateys (kiddos) should watch POC: Dead Men Tell No Tales?
Every kiddo has different tolerance levels for movie violence and suspense, but if your kiddo has seen Pirates 2, 3, or 4 they will be fine with this one. (The original Pirates is more family friendly than the others). One thing to note: if your kiddo doesn't like sharks, this movie won't help! Thankfully, the ghost sharks are so ghost-like, they are not plausible- but still made me jump, so encourage your kiddo to put their drink down when you see the sharks!
Personally, I would be okay with about 9 and up for most kiddos, using the 2nd, 3rd and 4th Pirates movies as a litmus test.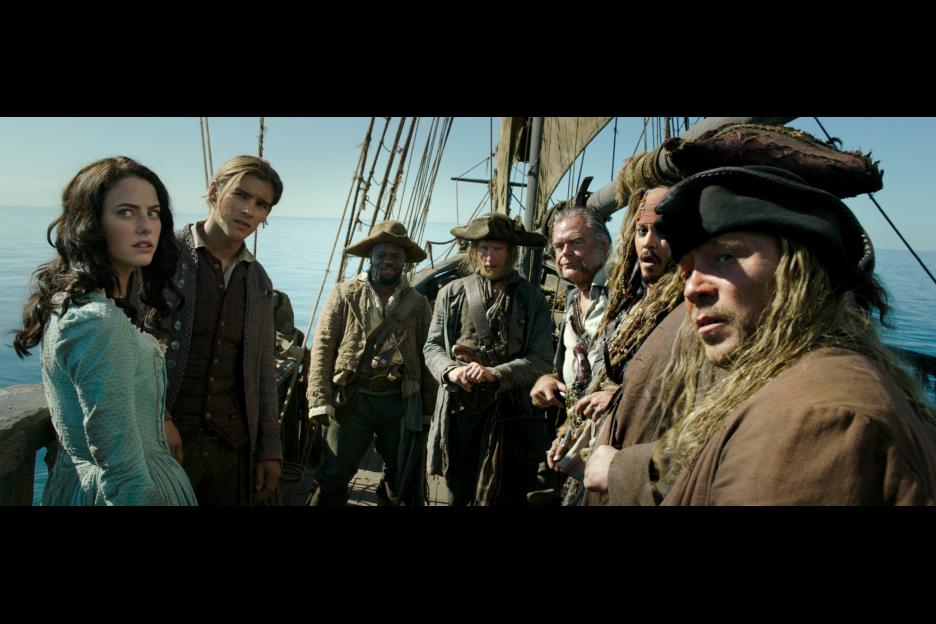 Me thoughts and overall Pirates of The Caribbean: Dead Men Tell No Tales review:
This Pirate loving Momma (and her hubby) really enjoyed the "final" installment of Pirates of the Caribbean. I say "final" because there is plenty of setup for a potential expansion of the Pirates universe. Frankly, I'm hoping Dead Men Tell No Tales will not be the end!
"Pirates 5" is a little predictable, but in a good way. Dead Men Tell No Tales checks all of the Pirate boxes and feels more like the original movie. I loved getting to see some familiar faces, including Captain Hector Barbosa (Geoffrey Rush), Will Turner and a few others; but I really enjoyed meeting a few new faces. Don't expect to have your mind blown, but you will be taken for a fun ride complete with Jack, Barbosa, the monkey, plenty of rum, and you will want to see it again when it comes out on Blu-Ray/digital/DVD.
Will my kids watch it? The 11 year old will love it, the 5 year old will need to wait a little longer. She didn't mind most of the first movie (we covered her eyes in a few parts) but this one is too intense for her, especially on a big screen.
I loved learning the back-story on a few characters, including how Jack Sparrow got his start and earned his name! Like any good movie, I was left with a few questions, especially after the credits! Salazar is probably the creepiest villain Captain Jack has had to face, and Javier Bardem does a good job of playing a creepy, ruthless bad guy!
If you don't like the other four Pirates of the Caribbean movies, you won't like this one. If you have not seen the other movies, chances are parts of this one may not make a lot of sense to you, so a pirate marathon may be in order (you could skip On Stranger Tides (Pirates #4)).
Mom Approved Tip: Spring for the upgraded tickets. We watched this one in IMAX 3D and this is a movie is definitely worth the upgrade for IMAX! Several scenes came off as they were shot with 3D in mind.
Now run and grab those tickets with your big kids and don't forget to stay through the credits! #PiratesLife

Fun Facts:
In the Execution Square guillotine sequence, the two heads detached from their former owners' bodies were modeled after directors Joachim Rønning and Espen Sandberg!

For Oscar® winner Javier Bardem, taking on the role of Captain Salazar was somewhat of a family affair. Bardem's wife, Penelope Cruz, starred in the previous "Pirates" film, "On Stranger Tides," and Bardem was a frequent visitor to that set.

To properly age the wardrobe, Costume Designer Penny Rose and her team used a variety of innovative techniques, including putting them along with pebbles in a cement mixer, using cheese graters to wear them down and, occasionally, taking blowtorches to materials as well!
Disclosure: For this review I viewed a complementary screening of the film, but all opinions are my own and I am not compensated in any way for my statements or review. This post and site may contain affiliate links.
Share This: