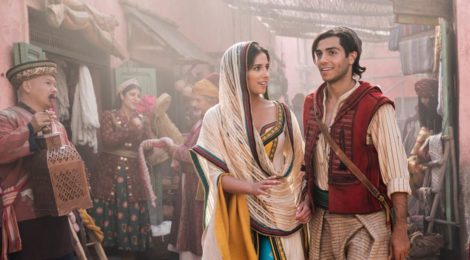 Aladdin 2019 No Spoiler Review – What Mom And Dads Need to Know
The 2019 live action Aladdin has been anxiously anticipated by Disney fans and princesses alike, but is it appropriate for your kiddos? Or any good? Don't worry, I have a Mom Approved spoiler free Aladdin review to the rescue!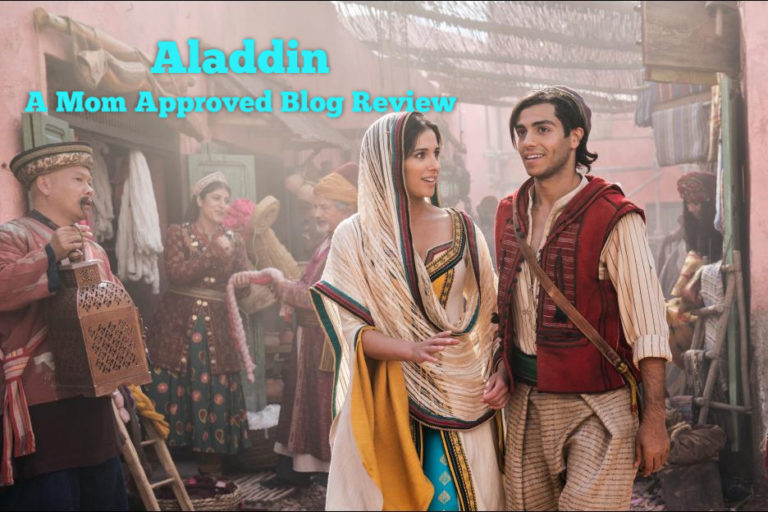 The Storyline:
If you are expecting a whole new world, you won't find one in the new 2019 live action version of Aladdin (and that is not a bad thing). Thankfully, this film does not deviate too much from the 1992 animated Aladdin version, instead it offers new snippits of backstory, some personality tweaks of a few characters, a few fun twists and a delightful new character or two.
The Characters:
Jasmine played by (NAOMI SCOTT) is the beautiful, courageous and self-determined princess we remember and love. This girl is ready to experience life beyond the palace walls! In the live action adaptation of Aladdin, there is a bit more emphasis on her desire to use her title in order to serve the people of Agrabah. I love that we get to see a little more personality and I dare say a little royal sass from her character.
We get to see Jasmine develop a bit more than in the animated version, as she starts off a little unsure of herself. But don't worry, this princess has been taking good notes from Disney's #DreamBigPrincess campaign, and it's not too overdone (though it flirts with getting really close). Sidenote: Do not send me hate mail about girl power. I love strong female characters, but enjoy a balance of strong male characters in movies too.
Because I'm a costume girl, I always pay special attention to the costuming in movies. I adored every single one of Jasmine's outfits, ok everyone's outfits.  The costume design is absolutely gorgeous in every scene in this movie. A teeny bit of tummy here and there, but it is incredibly tasteful and respectful. Even the most conservative of folks wouldn't blush. Friends- the COLORS. The colors used in this movie are bold and beautiful, unless of course you are a villain, then they are perfectly sinister and dark!
I'm also happy to report there is not a slave-Jasmine outfit, because that's not how this version works (yay)! And she does not use seduction to trick Jafar (double yay!).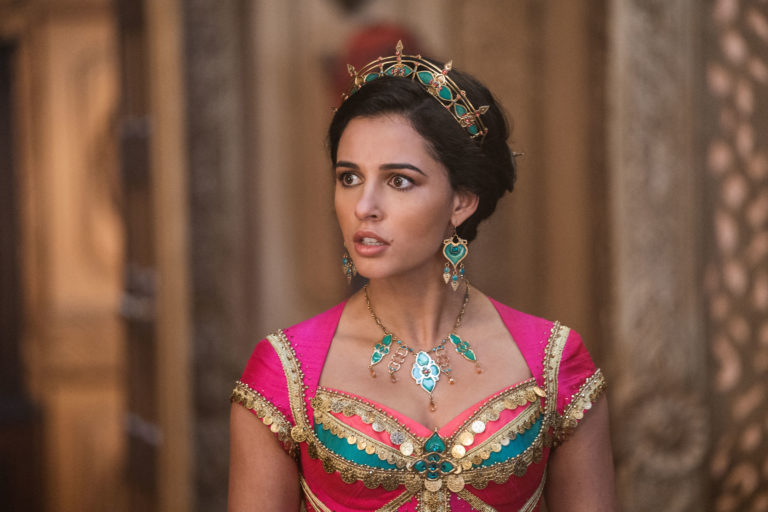 Aladdin (MENA MASSOUD) is our favorite charming street rat who is aching to leave his life of thievery behind. I REALLY enjoyed Messoud's portrayal of Aladdin, his casting is pretty spot on and I hope whomever cast Massoud gets a bonus, or at least a stack of donuts on their desk! He's not cocky or over the top, but sincere and charming. He's the kind of guy you hope your daughter meets!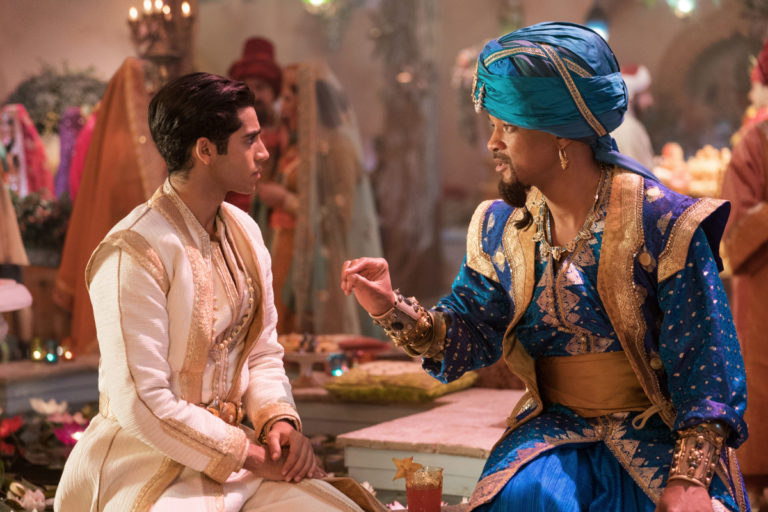 The Genie. This one was a TOUGH ROLE to fill. Notice I said fill, not replace, because no one can be Robin Williams, period. If you go in expecting Robin Williams you will be disappointed. BUT if you go with an open mind, after a little bit you may find you are pleasantly surprised. I actually enjoyed Will Smith as the Genie. Let me repeat and clarify-I actually enjoyed Will Smith as the Genie when he was allowed to have some personality.
There were a few times you could tell Will Smith was being put in a box, and it was a little painful. Maybe it is the choir girl in me, but my biggest beef with the character is when they made him sing for real. I'm not sure if it was the autotune or what, but bless him, it was just rough and very very bland. HOWEVER when the Genie was "free" to add his flavor it was good. The CGI on him has some weird moments, but you can shake it off pretty easily. What Will Smith DOES DO WELL is give the Genie more sincerity, more heart and humanizes him. Will Smith added plenty of humor and made the Genie tangible and believable. There is a teeny plot twist that I won't share, because its spoiler-y but it's pretty great and seals Will Smith as the Genie for me. This role could have been great instead of good if they had let Will Smith be a little more Will Smith in a few spots.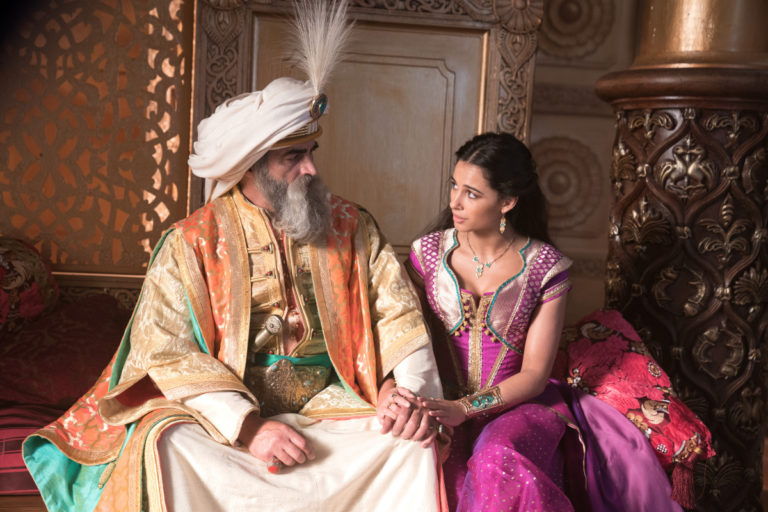 A nice surprise was how this version portrays the Sultan (NAVID NEGAHBAN). He is not a meek, tiny man who plays with toys, but a wise and respected leader. He is a loving and devoted father who understandably is over-protective of his daughter. I love they didn't make him a bumbling goofball. BUT keep your eyes out for an Easter Egg or two referring the adorable but goofy Sultan we remember from the animated classic. This Sultan is focused keeping Jasmine safe like any good Daddy would, but he also wants to help find (not select) a suitable husband for her. You'll want to hug him.
Now let's just rip off the bandaid- Jafar. When I saw the first shots of MARWAN KENZARI as Jafar, I was excited. I had no idea who he was, but he looked like he could could pull off a villain pretty well. Hopefully, I thought this could work… but then we heard him speak in the trailer. POOF. Ugh. Kenzari's acting itself is good in the movie- he just sounds WRONG. REALLY WRONG (until he gets to get his 3 wishes and its better). The voice just doesn't match the character. I remember standing in my corral at Disney's Princess Half Marathon Weekend at 5 in the morning and they showed us the trailer for Aladdin where Jafar speaks and you should have heard the crowd, it wasn't pretty.  Since then I have had very low expectations about this movie. After watching the entire movie in context, Jafar is by far the biggest failure in the movie- sorry Disney!
Yes, Raja, Abu, Carpet and Iago are in the movie (yay!) and have quite a bit of personality. Abu is lovable and you will want to bring him home to live in your house! Make sure you listen for the snark of Iago, sometimes he's pretty quiet or subtle, but Alan Tudyk was a perfect fit!
I can't wait for you to meet a few new characters: Dalia (NASIM PEDRAD), Prince Anders (BILLY MAGNUSSEN) and Hakim (NUMAN ACAR) who I'm NOT going to tell you about because they are new and I want you get to know them spoiler free! I will say, Dalia is my favorite and I would absolutely want a friend like her, and thankfully I do!
What parents should consider:
Aladdin has a PG rating due to a few scenes of peril in the same spots as the animated version but its a little more "real" in live action- the Cave of Wonders, the scene where Aladdin gets thrown in the sea, and the scene Jafar becomes a Genie. (think back to the phenomenal cosmic power, itty bitty living space scene)
"Monster Factor" – there is one scene where Jafar makes Iago really big (think oversized hawk chasing sparrow prey) it's weird and could be a little scary for littles, but it doesn't last long – just be prepared for your kiddo to grab your arm a bit like mine did.
Language! NONE! Hallelujah! Street rat is as bad as it gets! Thank you Disney!
No sexy stuff- a few sweet pecks between characters, but nothing to worry about here. Again, Thank You Disney and Guy Richie!
There is a character thrown down a well (implied death, but nothing shown)
Lava suspense in the cave of wonders
No actual parental death in the movie- but past deaths are discussed momentarily
 It has a pretty long run time, so make sure everyone potties before you sit down in the theater!
A few spots in the end of the movie were really loud, so if you have sound sensitive kiddos be ready to plug ears for a few moments here and there.
What parents don't need to worry about:
No language, no sexy stuff and no more "violence" than the cartoon version- whoo hoo!
Great story with a standup for yourself vibe
A few news songs with good lyrics
Lots of fun references to the original animated version
Stunningly beautiful set design and scenery
Jafar does NOT turn into a giant, scary snake – Indiana Jones will be happy.
Should your kiddos watch Aladdin?
Yup! It's a fun ride, and captures most of the fun of the original, but it won't replace your love of the animated version. If your kiddos can handle the animated version, they will be able to handle this one- but might grab your arm in the normal spots!
My random thoughts and overall Aladdin Review:
I had REALLY low expectations for this movie. Like Low.
I wound up enjoying Aladdin. Its a decent adaptation of one of my favorite animated Disney movies. The first 1/3 or so feels a little forced, but the rest was enjoyable.
The 13 year old boy child who is allergic to all princess things liked it (though he shared my displeasure with Jafar), the 7 year old princess loving warrior from head to toe loved it. She even said she liked it more than the cartoon (what?!) but that may be because I was asking her thoughts 5 minutes after it was over,
Like I mentioned above, the costume design was amazing, the set design was amazing, casting was pretty good (except for Jafar), the dancing is one of my favorite new additions, the music is mostly good, the big numbers were fun and I overall enjoyed the movie. I did not come out as excited as I did for some of the other live action adaptations, but I think it could grow on me like Solo did.
Now go grab those tickets and enjoy the show!#Aladdin

Disclosure: For this review I viewed a complementary screening of the film, but all opinions are my own and I am not compensated in any way for my statements or review.
Share This: