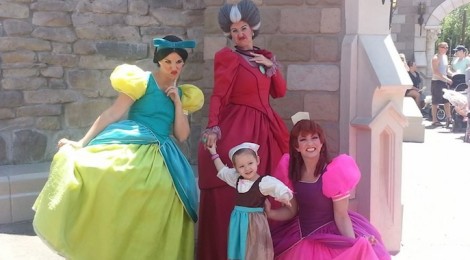 How to be a different princess every day of your trip for less than the cost of your photo pass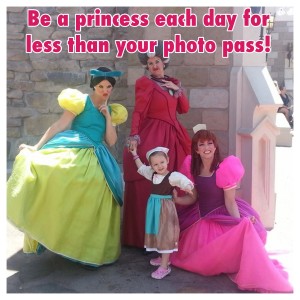 You just booked a 5/6 day trip at the Art of Animation.  Your princess wants to go to Magic Kingdom twice and visit the Bibbidi Bobbidi Boutique.
You can maximize the magic (and the thousands of dollars you already spent) for your trip letting her dress up everyday for less than your photo pass! (and they won't take up even half your suitcase).
Day 1: Magic Kingdom – Your princess wants to meet Elsa and Anna FIRST – so you wear the Elsa- inspired Ice Princess dress all day in comfort (even in summer).
Day 2: Hollywood Studios – Your princess wants to see the Disney Junior show and be Sofia – so you wear the Sofia inspired Amulet Princess dress (don't forget the fullness slip for extra pouf without bulk)!
Day 3: Animal Kingdom – Your princess wants to be Rapunzel just because she can.  (not as many people dress upfor AK so she will get lots of cast member attention).
Day 4: Back at the Magic Kingdom for your Bibbidi Bobbidi Boutique appointment.  Show up as Cinderella the maid in our day dress and leave in your ready-for-the ball Cinderella dress!
Day 5: Epcot – Your Princess wants to meet Snow White in Germany or have lunch at Akershus – so she wears the Snow White Traditional dress.
Day 6: The trip home.  You have had a blast watching your girl immersed in the magic only a Disney vacation can offer.
She received extra attention from cast members and now you have a whole wardrobe of machine washable dressups to extend the memories of this trip at home.
Here's the math:
29.99 Ice Princess Dress +
29.99 Amulet Princess Dress +
6.99 Fullness Slip+
29.99 Rapunzel Dress +
24.99 Cinderella Day Dress +
29.99 Traditional Cinderella Dress +
29.99 Traditional Snow White Dress
——————-
181.93 for 6 dresses and a slip (check our  current promotions to see if you can get this EVEN lower!)
You can still get some accessories: like matching gloves, capes, headbands and crowns and STILL be less than the photo pass!
**You can even ease the pain of missing Disney by having a matching dolly dress or two waiting for her at home**
Share This: