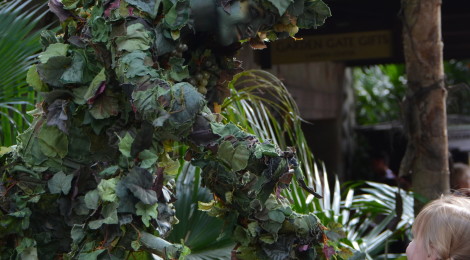 A DiVine Interaction at Disney
This article was written by me and originally published for Magical Distractions.
Honey, I think that Bush is Moving!
It's not your imagination…if you are walking the lush pathways of Disney's Animal Kingdom. You may have just met DiVine, an enchanting costumed character gracefully portraying a "Living Vine."
She began appearing in 1998, not long after Animal Kingdom opened its doors. The first time we saw her was purely by chance, and she seemed to appear suddenly and out of nowhere. Even if you are looking for DiVine, it is very difficult to see her when she is still next to the dense vegetation in Animal Kingdom.  But when she begins to move you just can't miss her!
DiVine stands about 16 feet tall, perched high upon foliage wrapped stilts wrapped in ornate vines and lush foliage. She does not speak or sign autographs, but will attract a large crowd as soon as she is discovered.
You can get great pictures with her-but you must be quick, as she does not break character to "pose." So be sure to have your camera ready! Guests big and small are absolutely captivated by her beauty and by the artistry of her graceful, flexible and fluid movements.
DiVine appears most days on pathways in between Africa and Asia between 10 am and 2 pm. Even if you are looking for DiVine you could still walk right past her….she's just that good.
Try asking a cast member where and when she might be found. DiVine is of my family's favorite "street performers" at Walt Disney World, and we always keep our eyes looking up and around hoping to see her.
Share This: