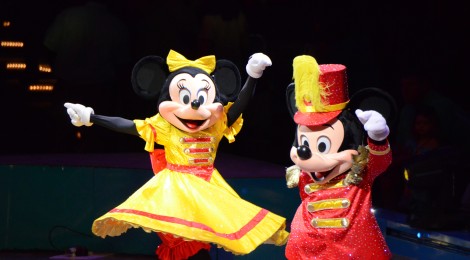 Disney On Ice 100 Years of Magic – Part 2
Continuing my review of Disney On Ice 100 Years Of Magic (See Part 1 here)
Intermission is 15-20 minutes long. If you don't need a potty break, the zamboni and music from some of your favorite stories will help kids entertained- but cotton candy never hurt anyone either.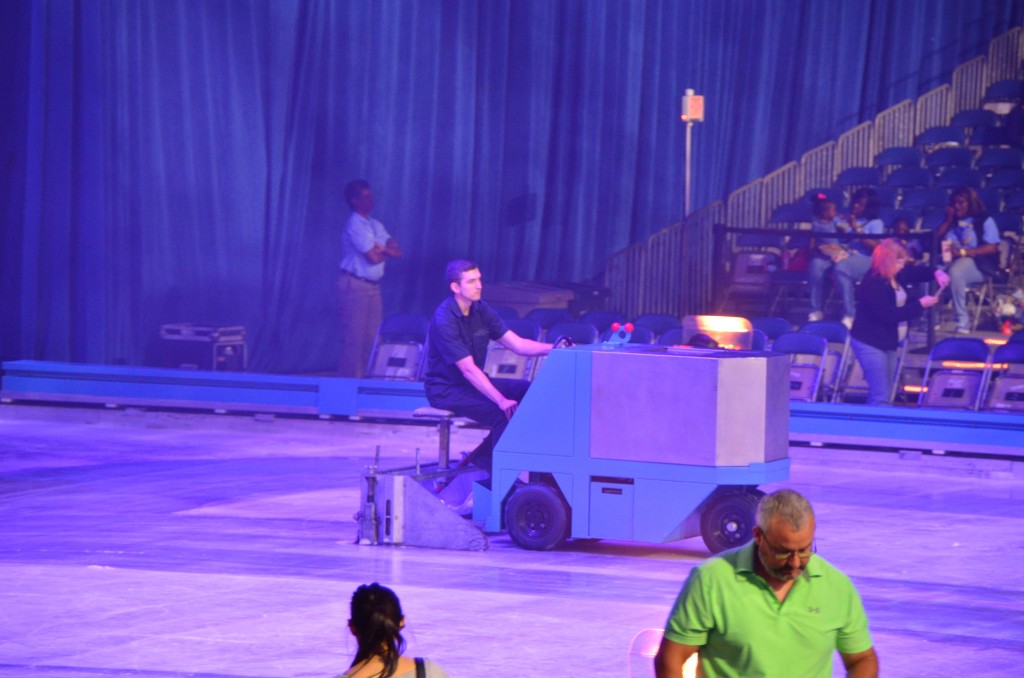 If the zamboni is not enough, don't worry vendors are walking around everywhere selling shiny souvenirs and sticky treats like snow cones, cotton candy and many other messy favorites!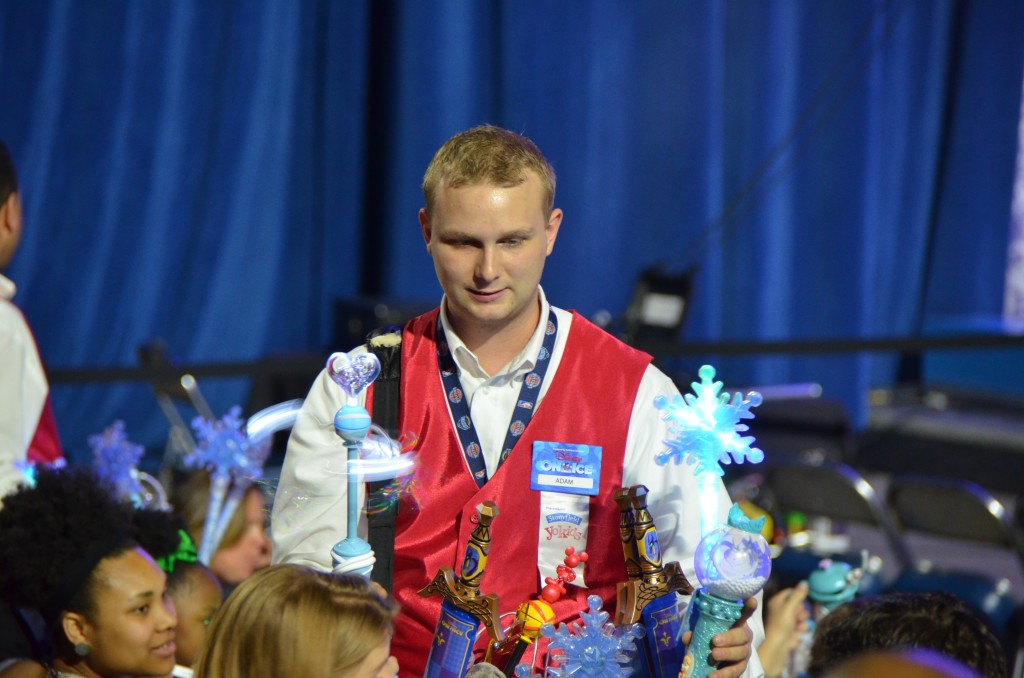 I cringe when I see snow cones, as they give me flashbacks of my son dumping one into my favorite purse at a University of Texas football game!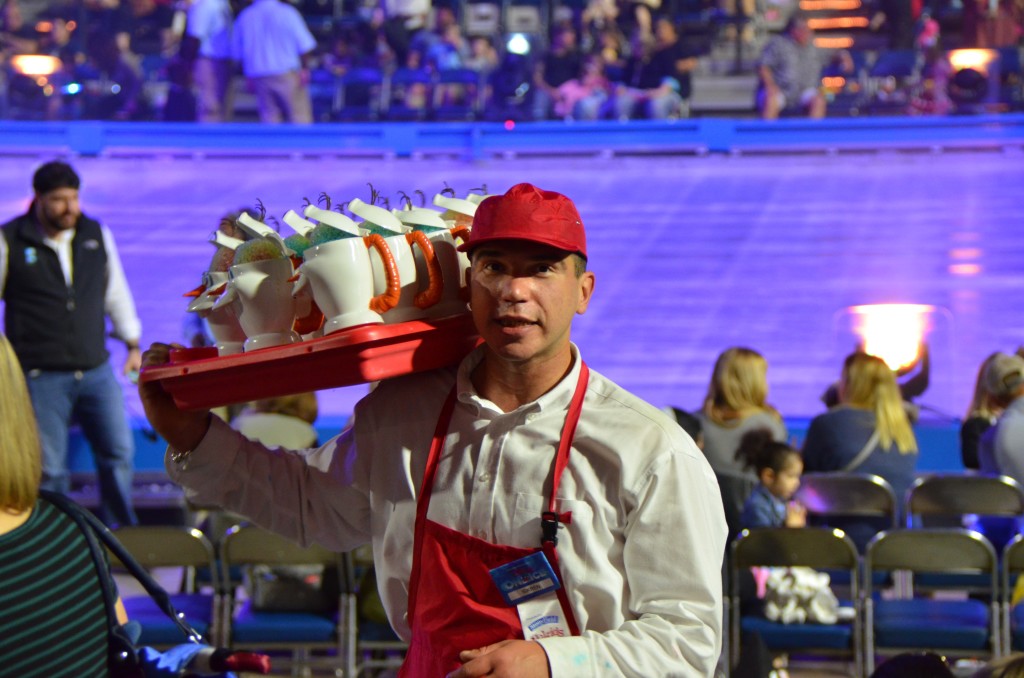 My favorite story from the 2nd half was Aladdin! Great music and fun choreography made this segment entertaining and fun for all ages!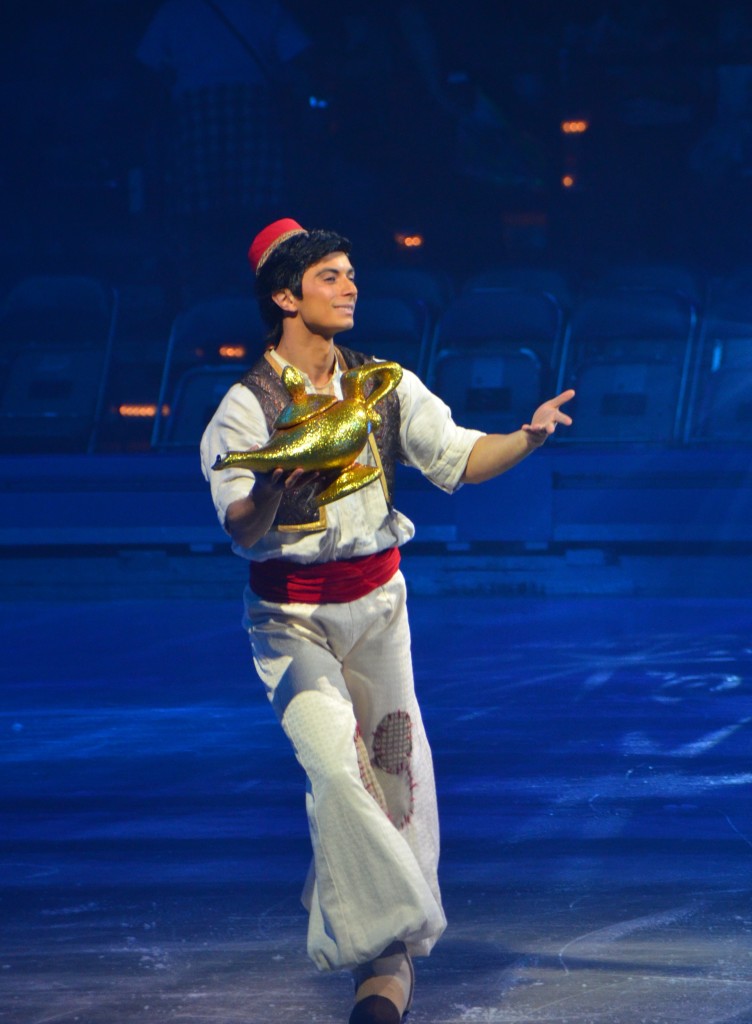 The kids seated around me were very tickled when all of the Genies came out- many of the kids near us had never seen Aladdin, but found the songs and moves very entertaining.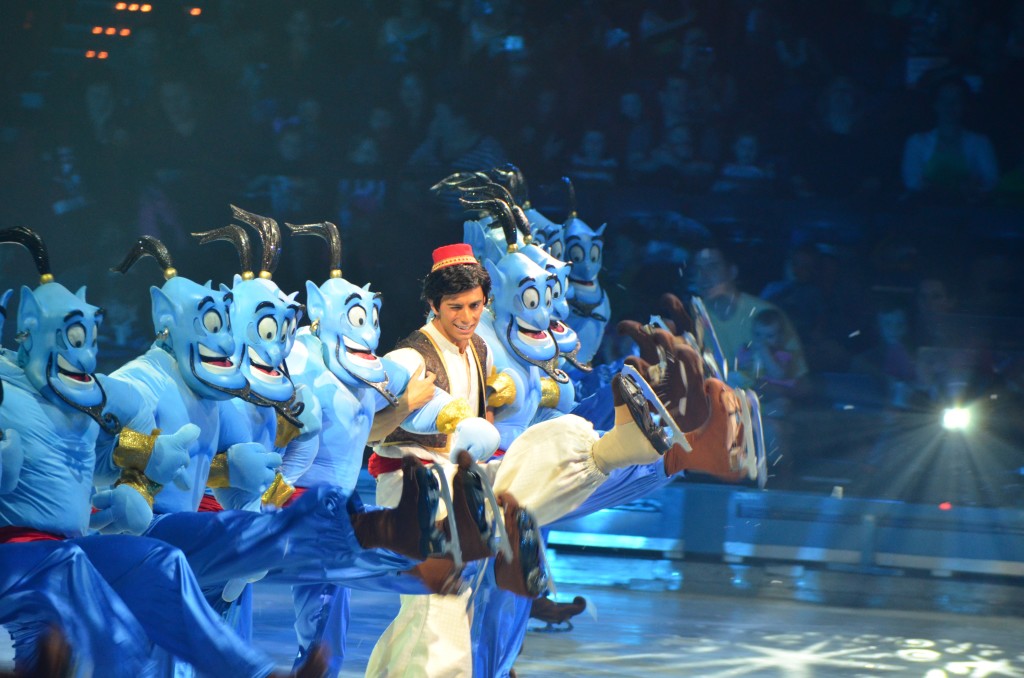 Can your friends do this?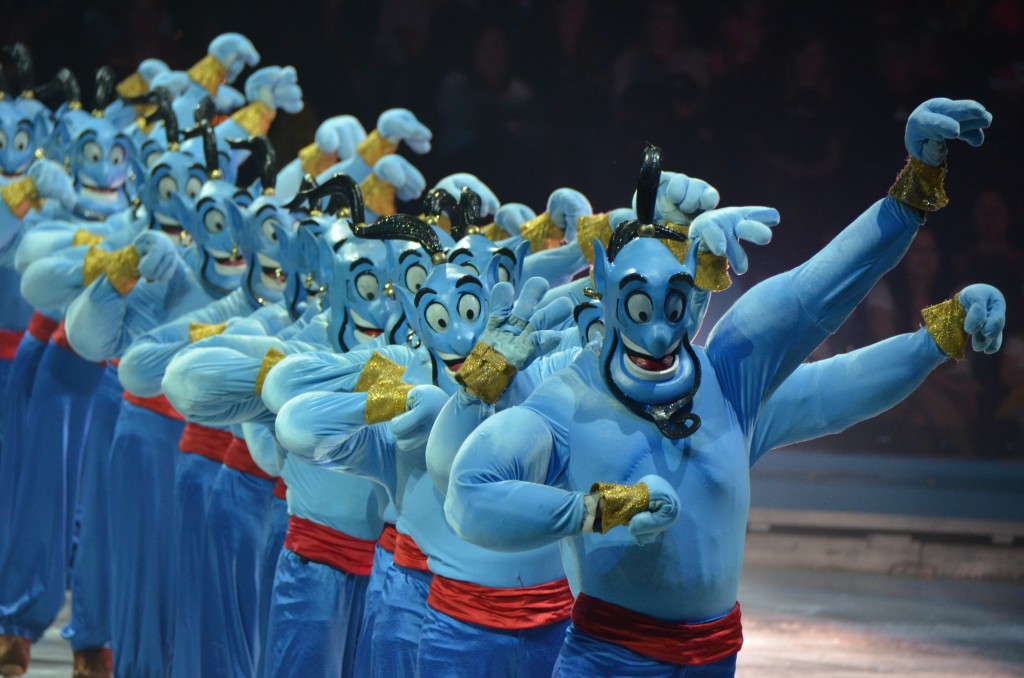 In case you were worried the silliness had gotten out of control, our favorite Sargent from Toy Story was available to get everyone in line! The Green Army Guys were visually impressive and fun to watch! The little boy next to me was very excited the next story told was not "princess-y."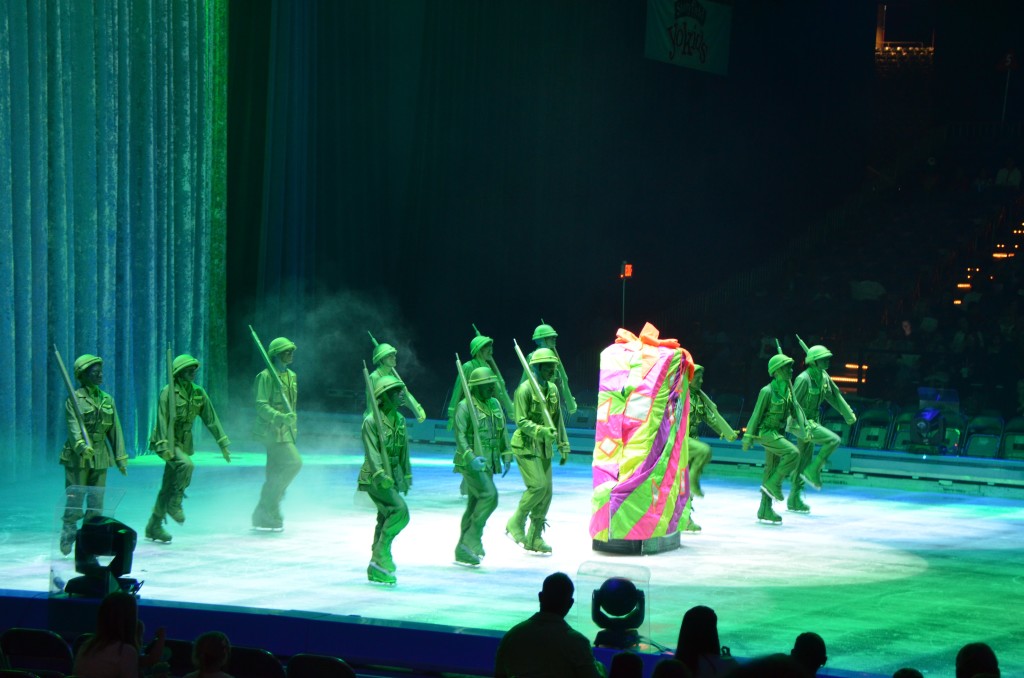 Woody, Buzz and Jessie joined in the scene for a rootin' tootin' good time.  The Toy Story portion looked recycled from a show a few years ago, but if it's not broke, why fix it?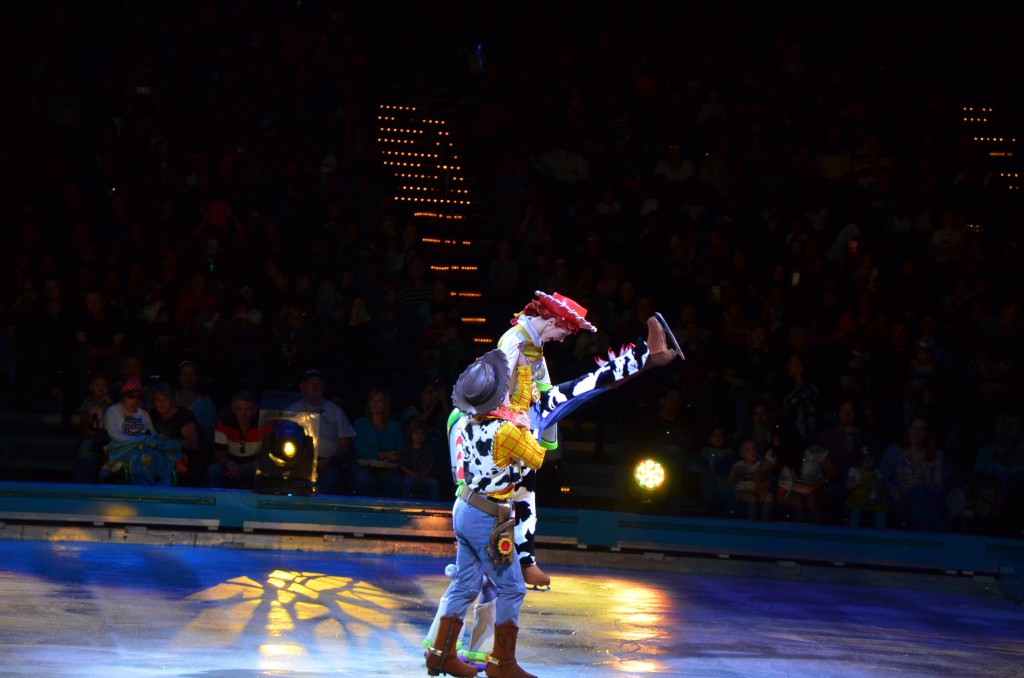 The new favorite most requested Disney movie to watch in our house is Mulan. If you have not shared this story with your kiddos, it is a wonderful story for all ages boys and girls! The condensed ice version of the story doesn't convey Mulan's sheer awesomeness- but this skater's face was pretty convincing!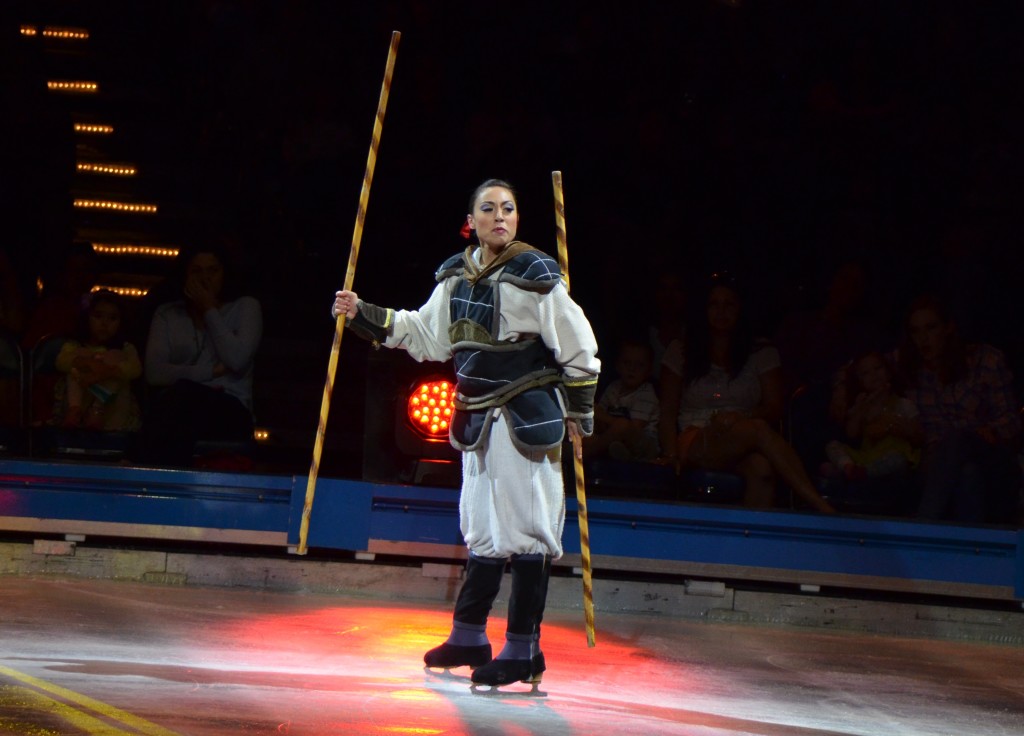 The battle scenes coupled with the music had many of the kiddos surrounding us on the edge of their seats!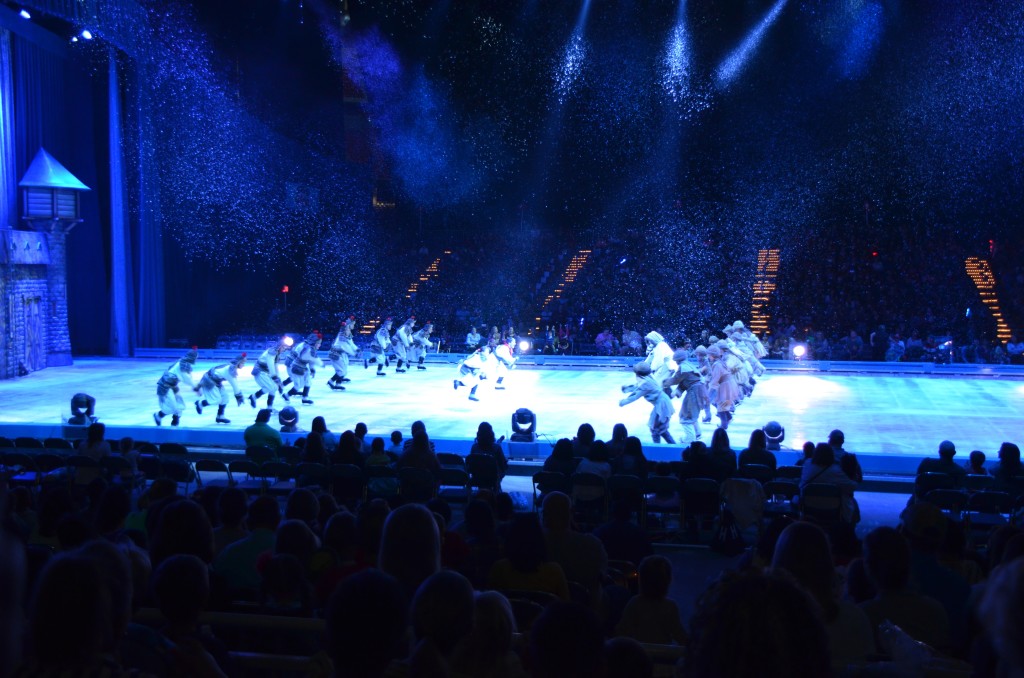 Mushu was very well received among the crowd!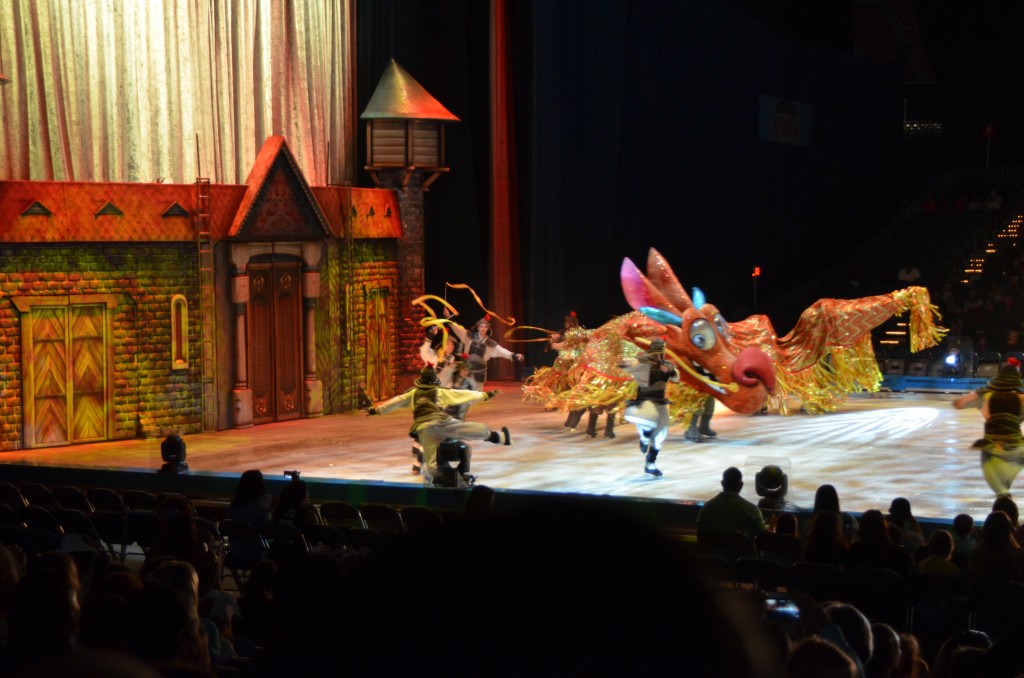 The audience went completely nuts when Rafiki came out! The Lion King soundtrack is my FAVORITE of all of the Disney movies.
However, I think the preschool crowd went completely ape because they thought they were getting the Lion Guard, not the Lion King.
Timon and Pumba were funny as ever, but you could almost here a collective sigh among the preschoolers. It is likely that age group has not seen The Lion King, because it is a little intense.
If you have not introduced the movie to your younger brood, you may want to read the book version before you go.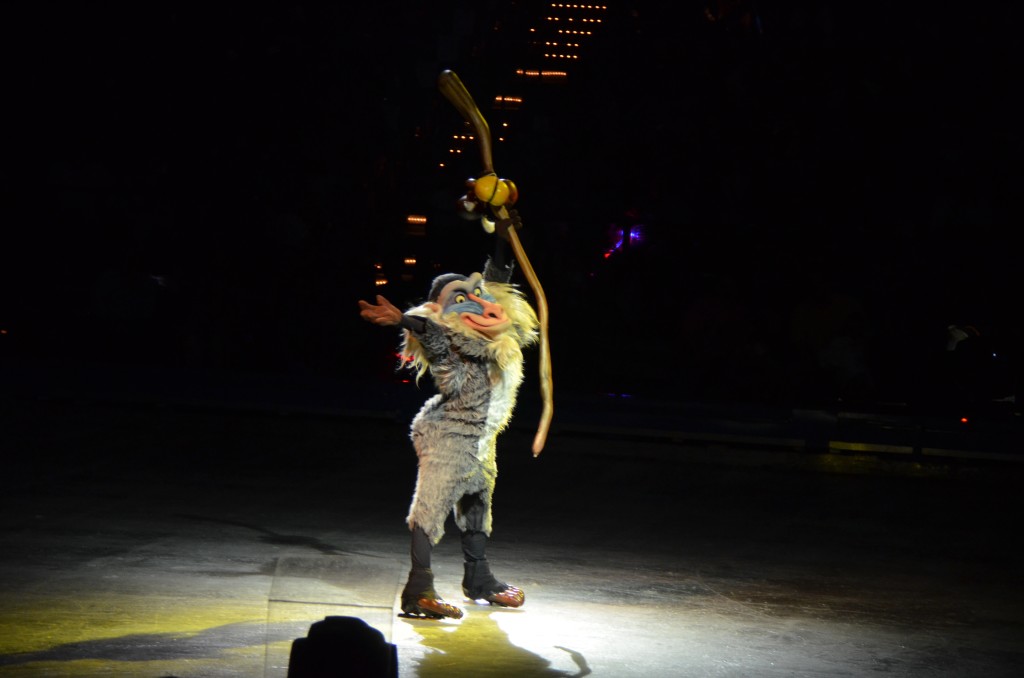 Okay. I LOVE the Lion King. But I thought the lion costumes were simply not up to snuf- they looked unfinished.
While Simba and Nala's duet was more difficult technically, maybe a more "realistic" costume may have impeded some of their awesome moves, but frankly they looked naked.
They needed more fur or color in a bad way. Maybe even a darker color leotard or Simba heeded a grander mane more like movie.The performance was beautiful, but the nakedness was distracting as an adult. The kids probably didn't even notice.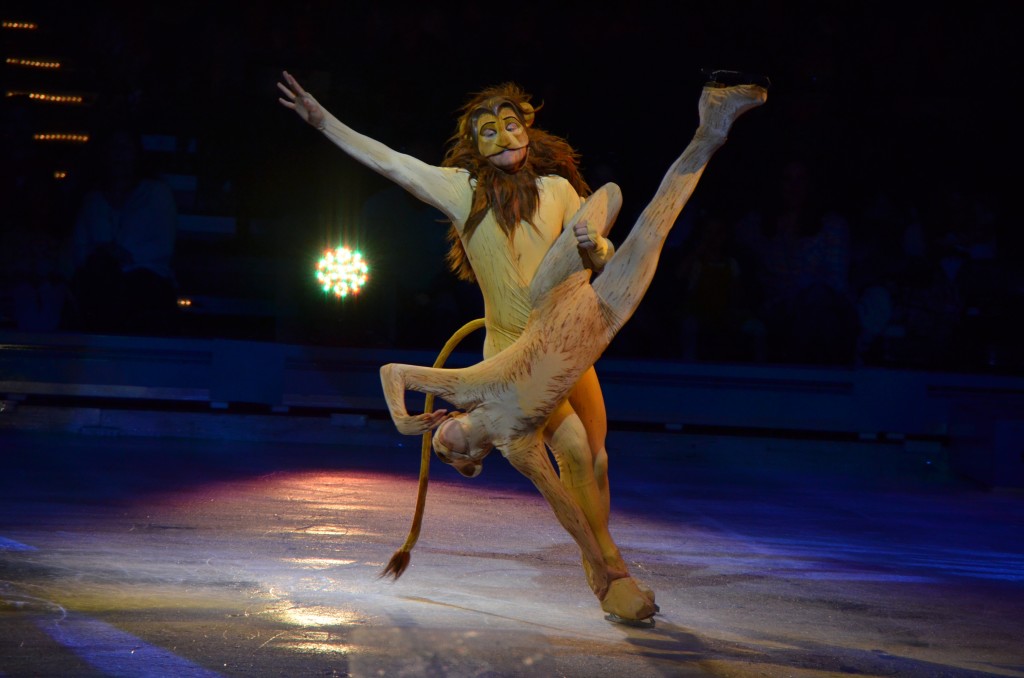 Then the tragic realization that our fun is coming to an end, and the final chapter of our story… the finale.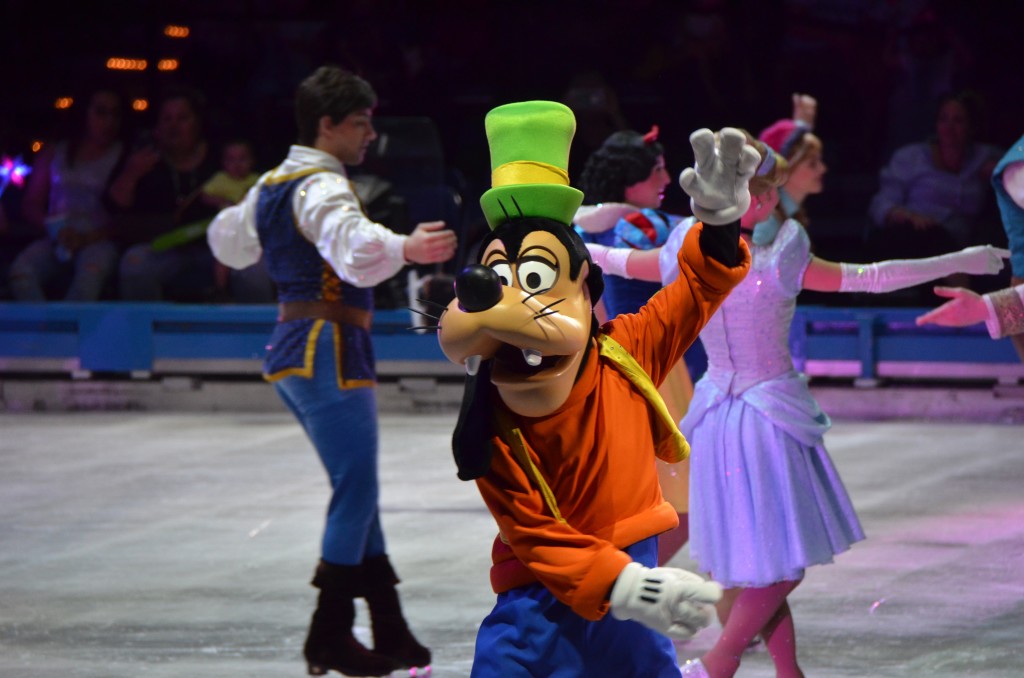 All of our favorite stories and beloved characters have helped inspire Donald and Goofy, and the entire cast comes out to celebrate!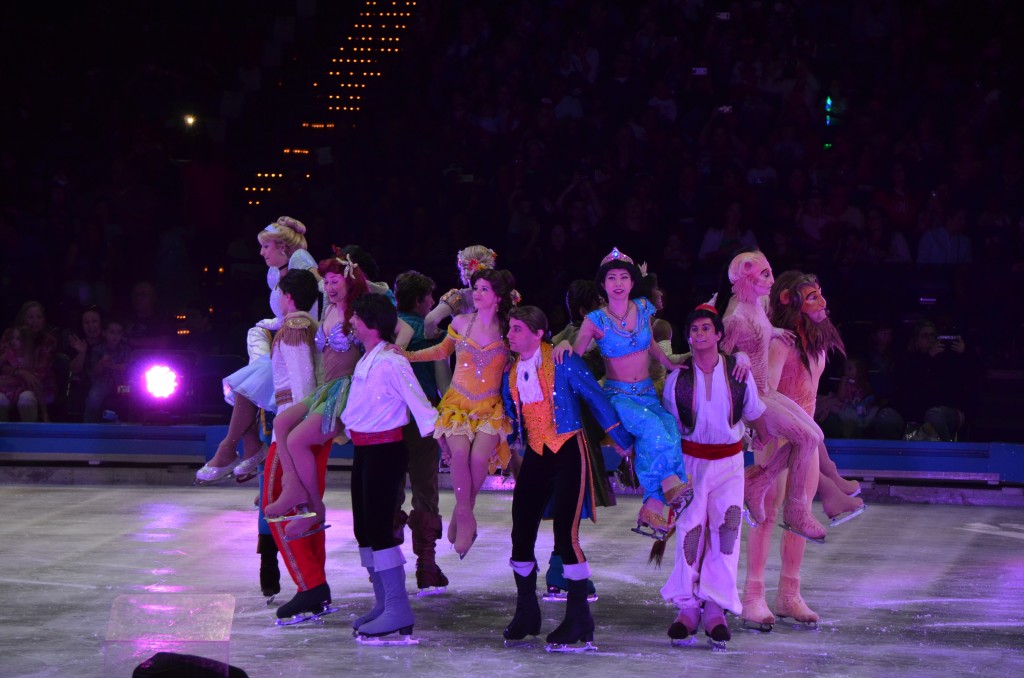 For those with sound sensitive kiddos: a few minor fireworks are used in the finale, but they are more like large sparklers and are not loud.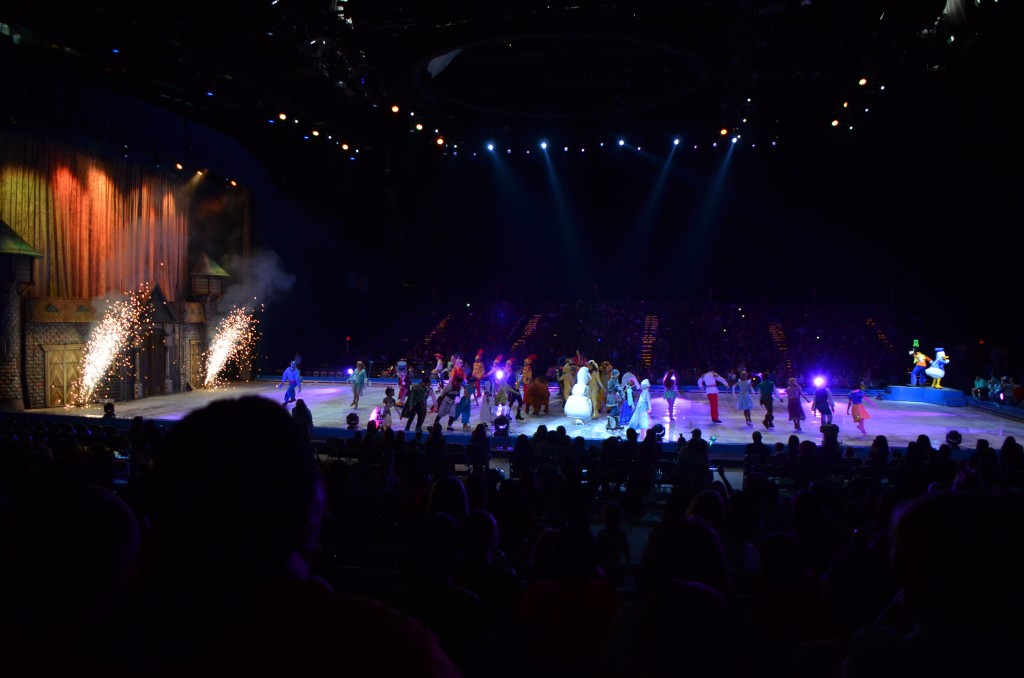 Disney On Ice 100 Years of Magic was a great family show that is fun for all ages!
Mom Approved Tip: If you attended Frozen On Ice and purchased a snowflake wand, they are selling the same ones at this show.  Or you can TRY to bring your own glow necklaces, but you know you are going to get the "that is not the same" look 🙂
Disney On Ice 100 Years of Magic could be coming soon to a town near you! Click here for the current schedule from Feld Entertainment.
My little one was sad to see her favorite friends go and was waving so fast my lens could not keep up!  Guess it's time to plan another trip to Walt Disney World!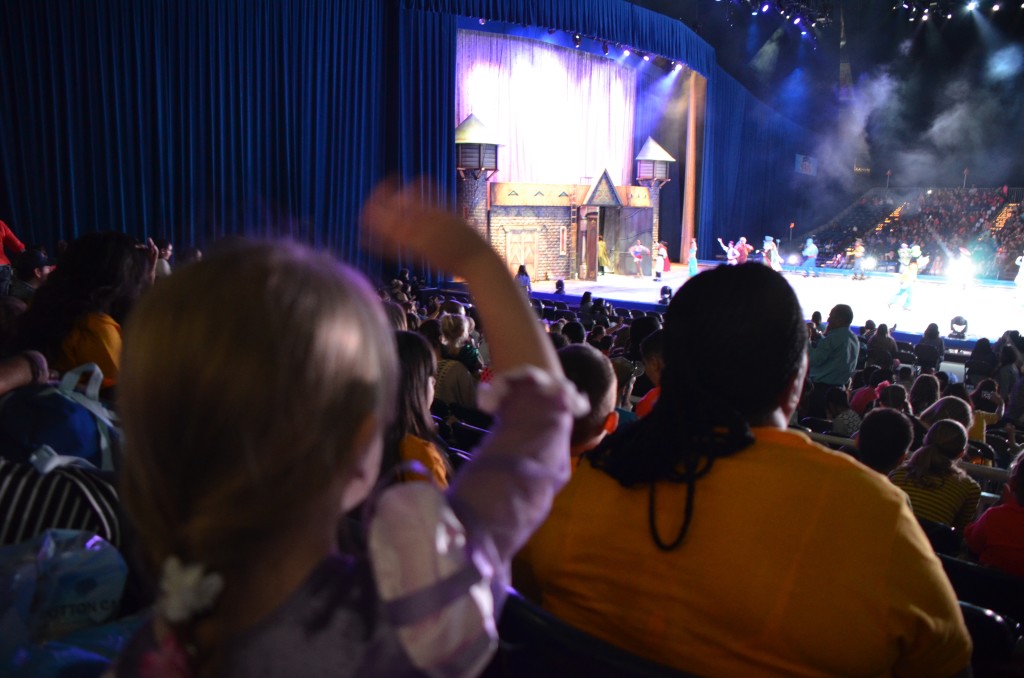 Share This: