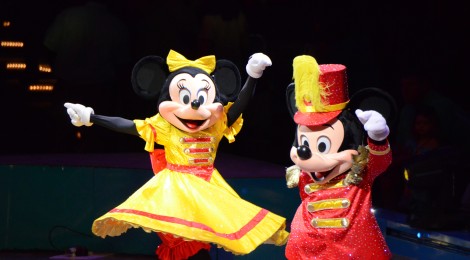 Disney On Ice 100 Years of Magic Review – Part 1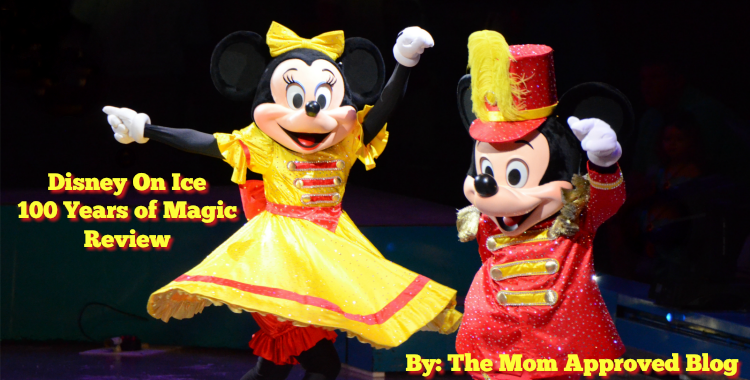 We recently attended a performance of Disney on Ice 100 Years of Magic in Houston.  It was absolutely Mom Approved!
If you have never attended a Disney On Ice performance, here are a few quick notes:
While there is an intermission, the show may be a little long for some wiggly 1 and 2 year olds…but that is what popcorn is for! Most venues do not say anything if you bring a pouch of applesauce and a baggie of goldfish either!
Like most of the Disney on Ice shows, 100 Years of Magic has a few some small fireworks but they are over quickly.
Be prepared for some pretty expensive merchandise and food.
The show offers a great Disney fix and I want to do it all over again!
It is totally acceptable to dress your littles in their favorite Disney inspired costumes or clothing. We saw kiddos in their Mom Approved Costumes dresses, but also dinosaur costumes, superhero costumes, princesses of every sort and even a Power Ranger or two (I can imagine the conversation that happened at that house!)
The more fun you have, the more fun your kiddos will have! Moms happily wore their favorite Disney Parks or homemade mouse ears or were wearing tiaras. Want to try your hand putting together a Disneybound outfit? Disney On Ice is a great excuse to show your #Disneyside !
If you have attended a performance of Disney on Ice before, you may notice many of the same costumes and props duplicated from other shows, but I do not think it hampered any of the fun. There were happy faces everywhere!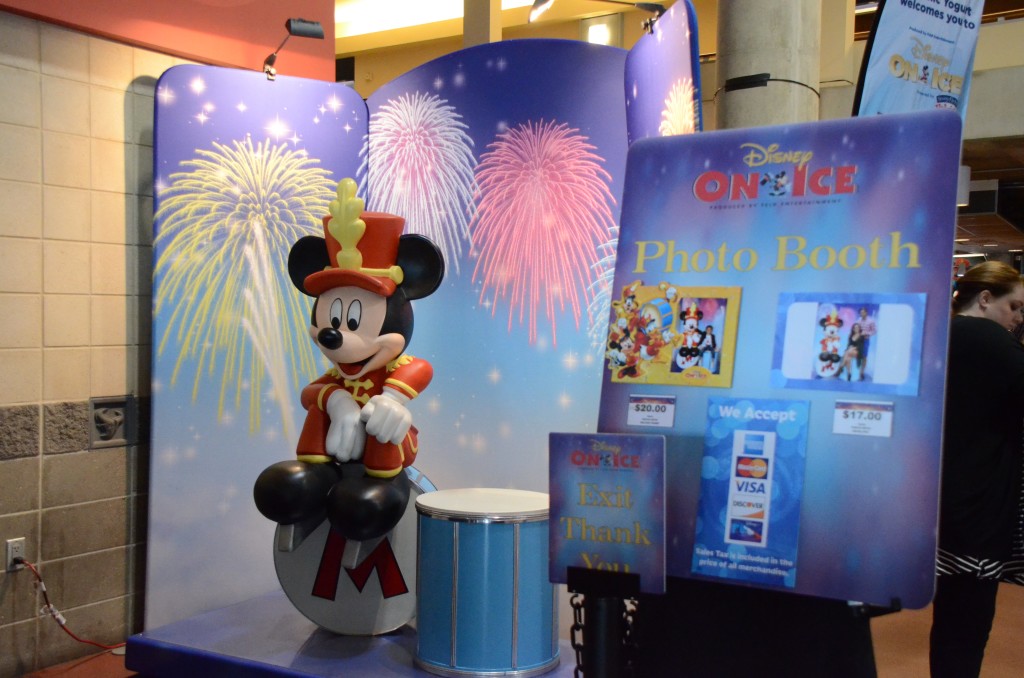 Upon walking into Reliant Stadium, I was greeted by a familiar sight: my favorite mouse and the Disney On Ice Photobooth. No personal cameras were allowed to take pictures. Photos were available immediately for $17 or if you wanted a frame $20.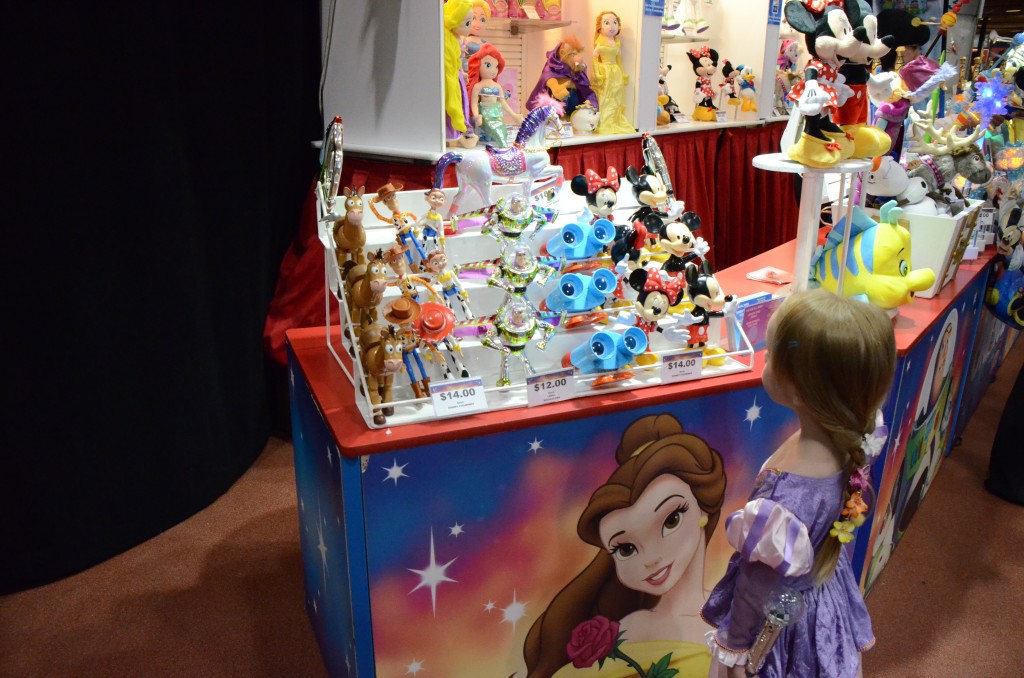 Merchandising kiosks are repeated and available every few sections.  Programs with Belle's souvenir red rose were available for $15.00.
Mom Approved Tip: Do NOT stop at the first kiosk you see. Kiosks located near the entrances are always really busy- walk down a few sections and there will be much shorter lines.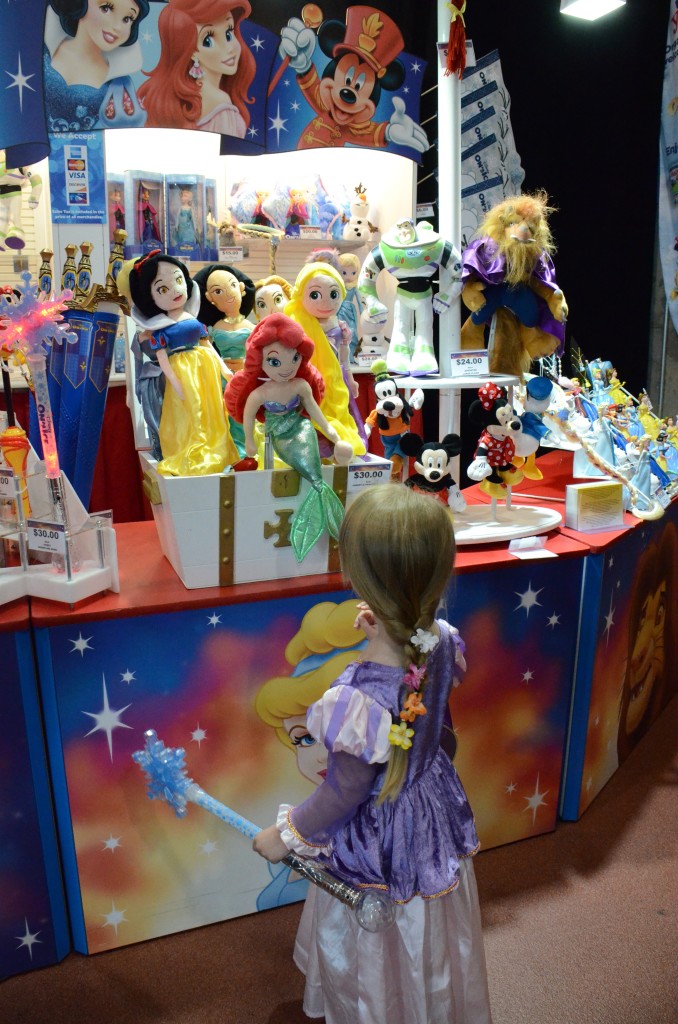 In addition to a huge selection of blinking merchandise, there is quite the selection of tasty treats available for purchase!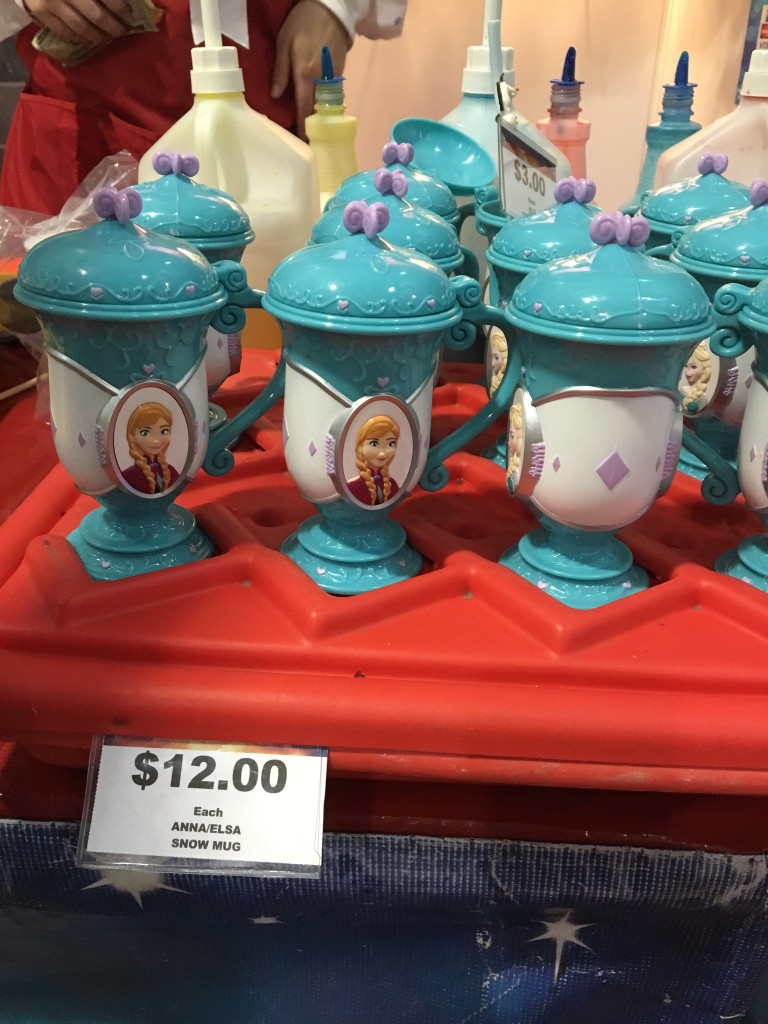 Not going to lie, I really wanted this Frozen mug. But alas, my cute Frozen stein is handwash only. Handwash only items never get used in our house in fear of having to be handwashed.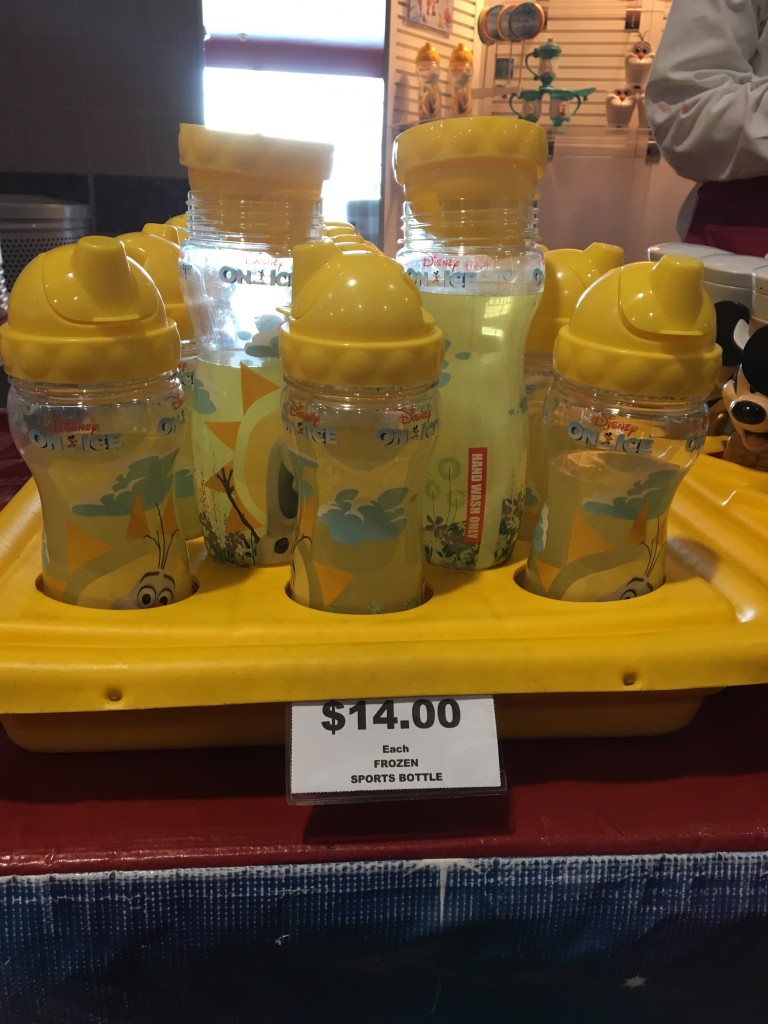 Curse you handwash only sports bottle. Seriously though, the lemonade is actually quite tasty and the fancy real lemon slice is impressive to the kiddos.
There are plenty of typical show snack options like popcorn, cotton candy, snow cones and the like- but on to the show!
With an energetic grand opening Mickey, Minnie, Donald and Goofy quickly setup the storyline with help from many of our favorite princess friends.
I was excited to see Pinocchio was the first story to provide inspiration to Goofy and Donald. Pinocchio is one of my favorite Disney stories!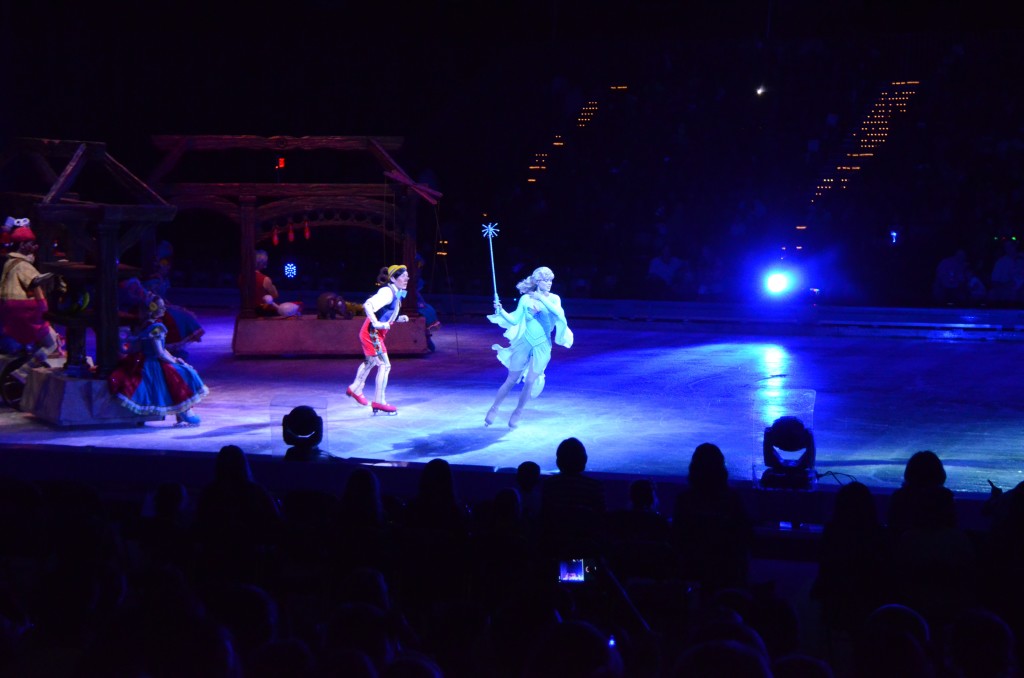 Beautiful lighting and graceful moves showed off the Blue Fairy's GORGEOUS dress. It was my favorite costume of the whole show!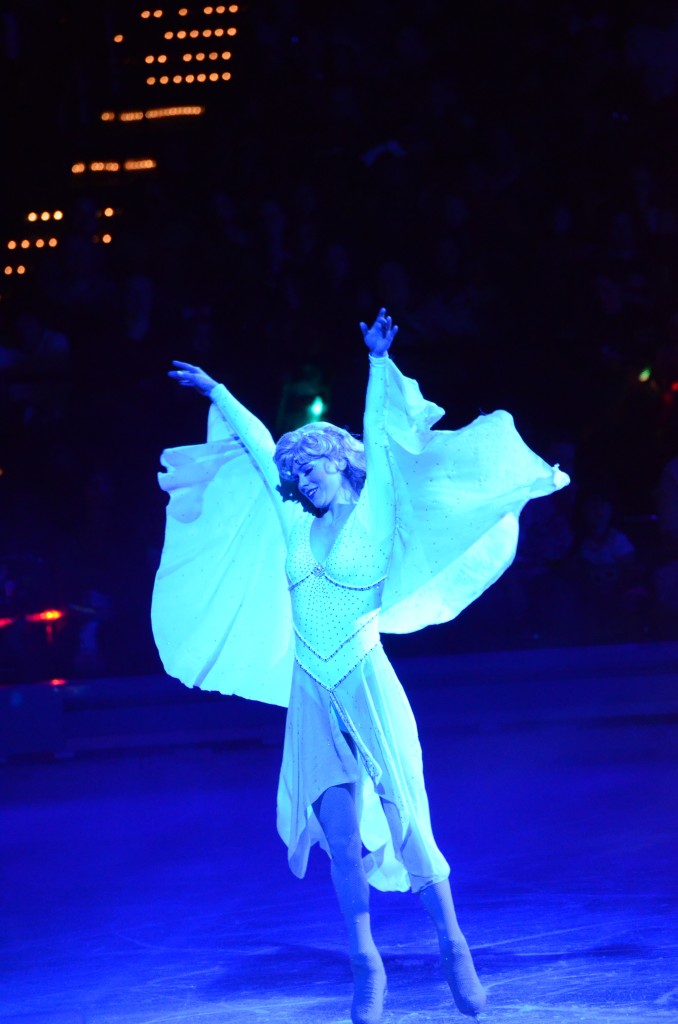 The next story up is Finding Nemo – while all of our favorite characters made an appearance, the audience erupted in cheers when Crush came out! He's huge and very very cool.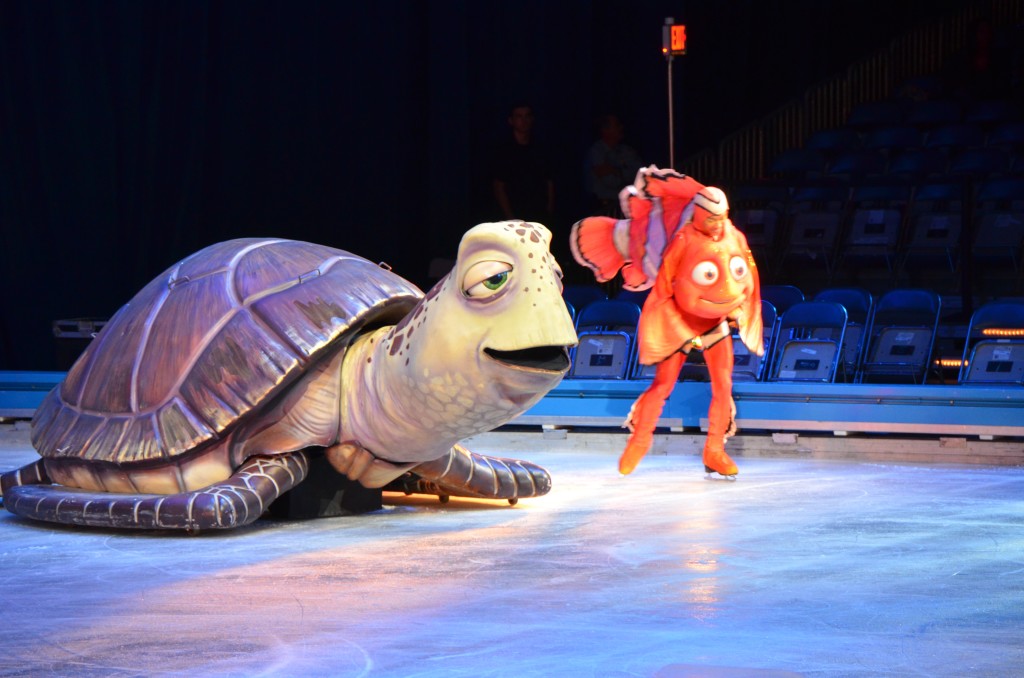 The baby turtles were very popular among the kiddos and the routine was engaging for little ones.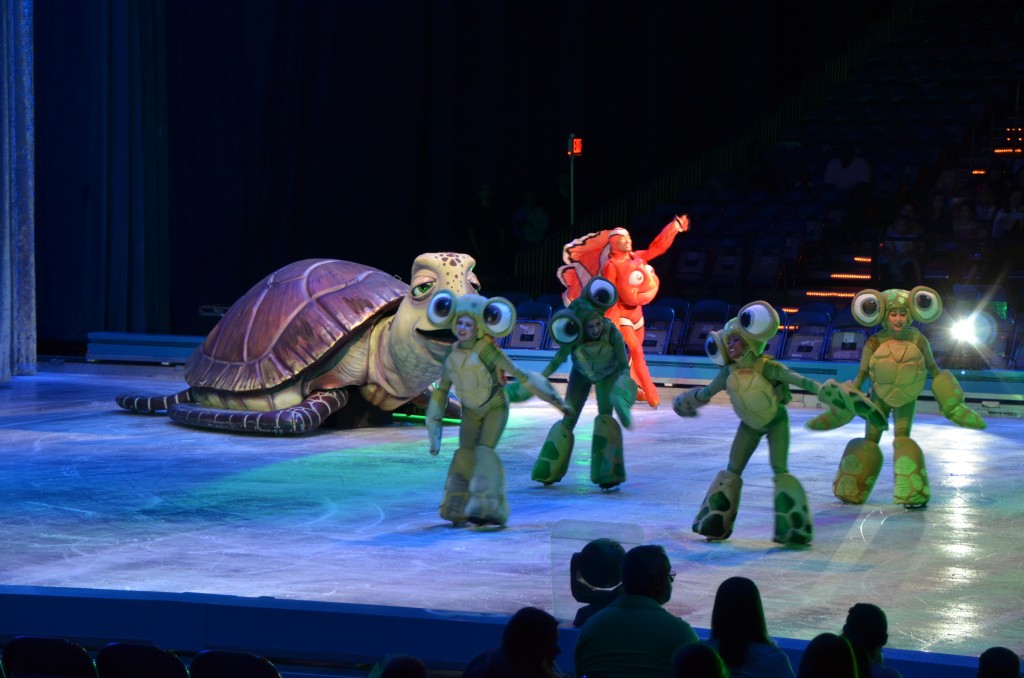 Beauty and Beast was the next story segment up. If you have younger kiddos that have not seen the movie yet, I would suggest reading the book to preschool age kiddos so they know what to expect.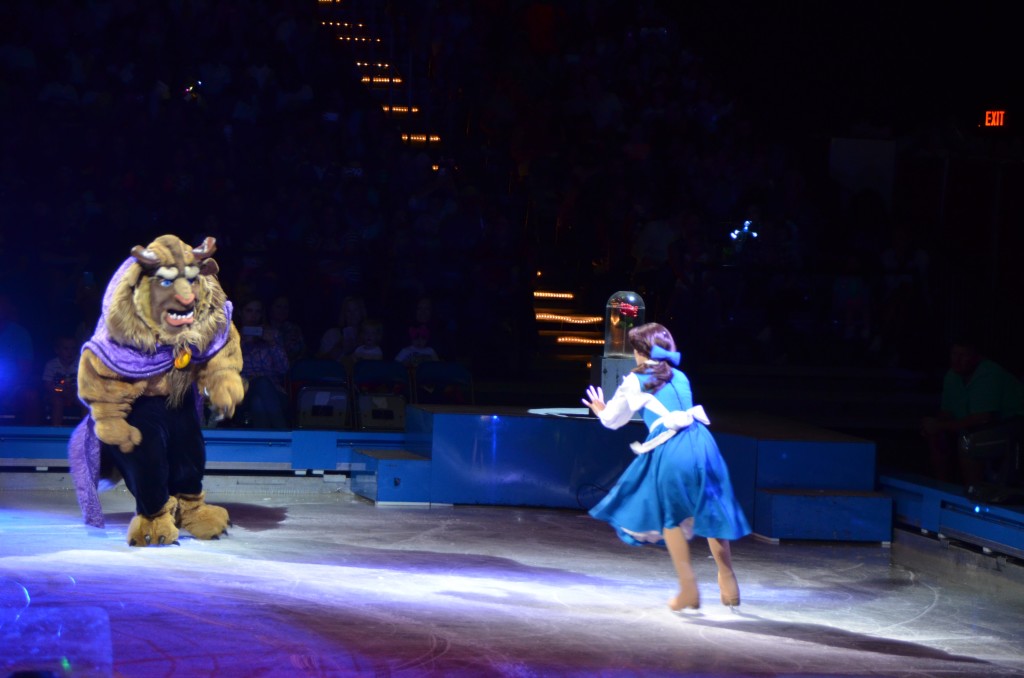 One of the only "scary" parts of the show occurs during the Beauty and the Beast fight scene with Gaston, there was some gasping from the 2 to 4 year old crowd around us.  But the Beast is quickly transformed into dashing Prince Adam and the preschool panic turned to joy.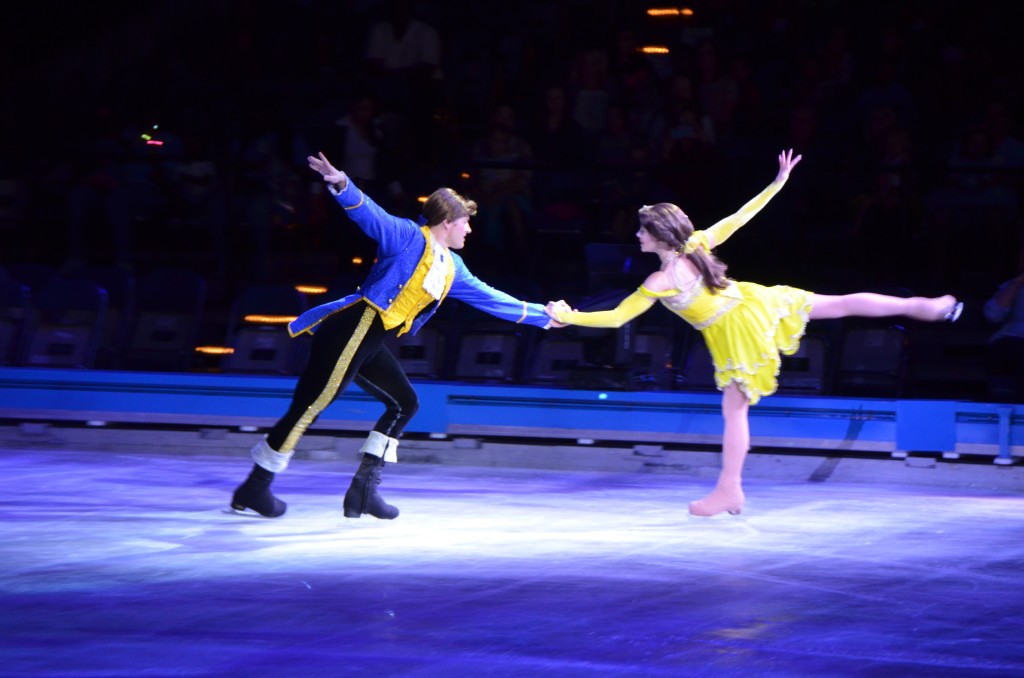 If you were able to see the Frozen on Ice production, the next segment will be incredibly familiar to you.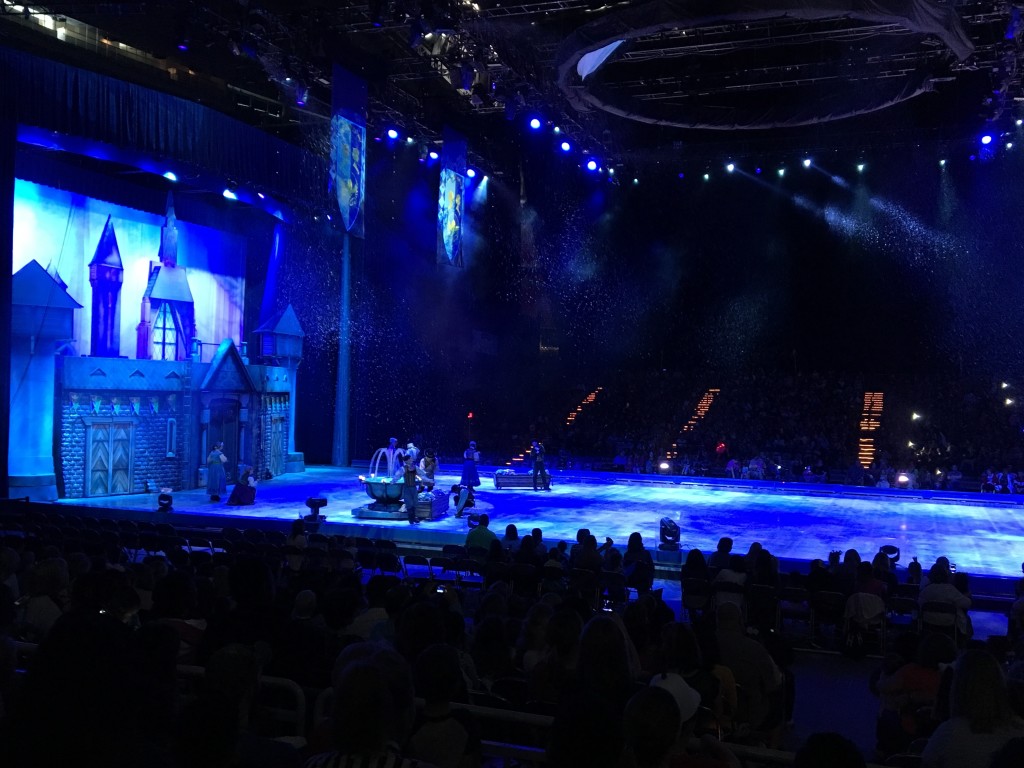 The Frozen segment was noticeably longer than the other segments and it felt like a condensed version of Frozen on Ice. Loved it!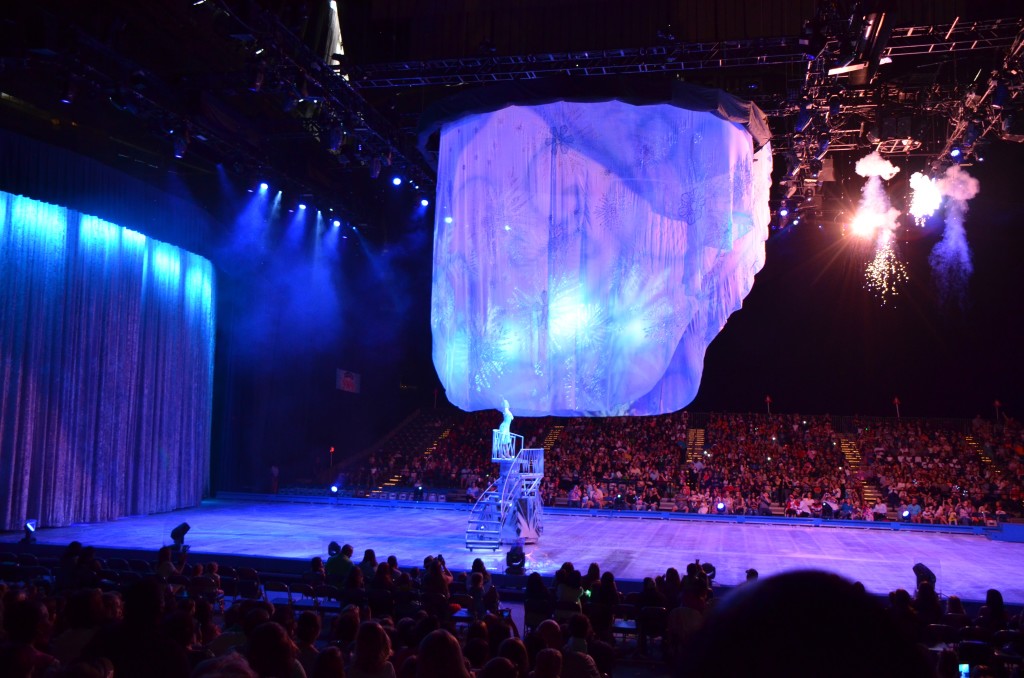 Many of your favorite songs (or the ones that send you into a murderous rage) are featured and quickly become audience singalongs including: "For the First Time in Forever," "In Summer" and of course "Let It Go."
Honestly, I was a little sad Marshmallow from Frozen On Ice did not show up, but there were time constraints for the show.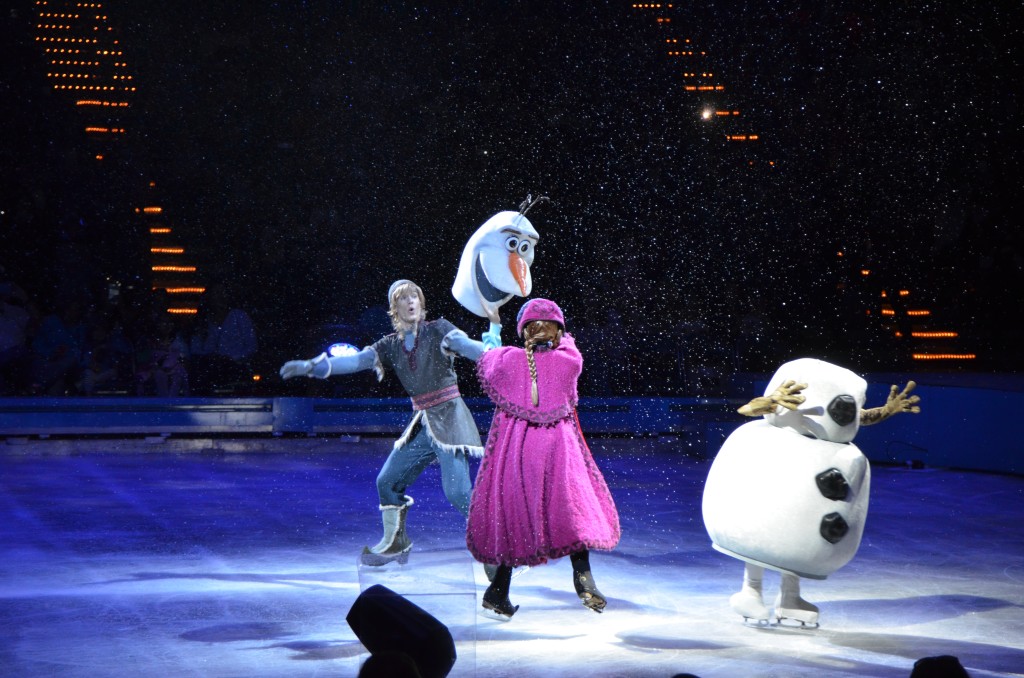 If the scene when Hans attacks Elsa freaks your kid out when you watch the movie at home, they are not going to like it live either. The scene passes quickly and children are very easily distracted by the snow falling.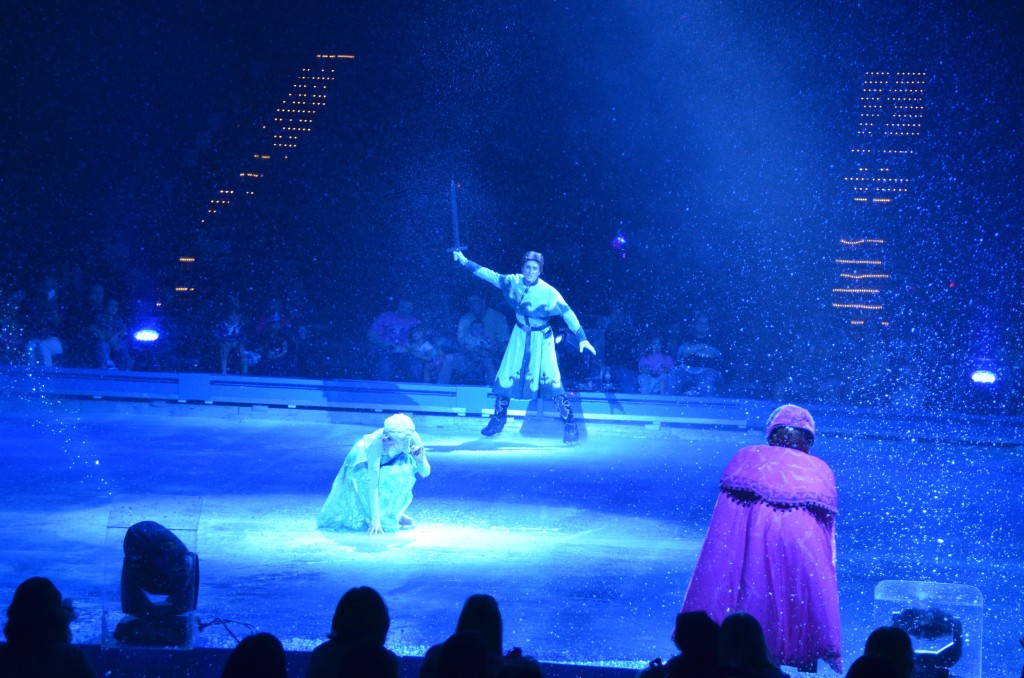 Don't worry, True Love prevails and sends us to intermission on a happy note! If your kiddo needs to use the restroom, you may want to start walking up the stairs when Hans goes after Elsa and watch the rest from the top of the stairs!
See what to expect from the rest of the show and more info on merchandise and a Mom Approved Tip or two in Disney On Ice 100 Years of Magic Part 2!
Disclaimer: I was provided tickets for the Disney On Ice 100 Years of Magic review, but all opinions are my own.
Save
Share This: