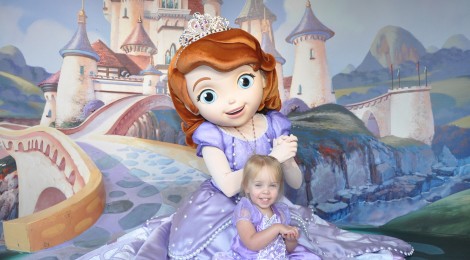 Magical Meet Monday – Meet Sofia at Disney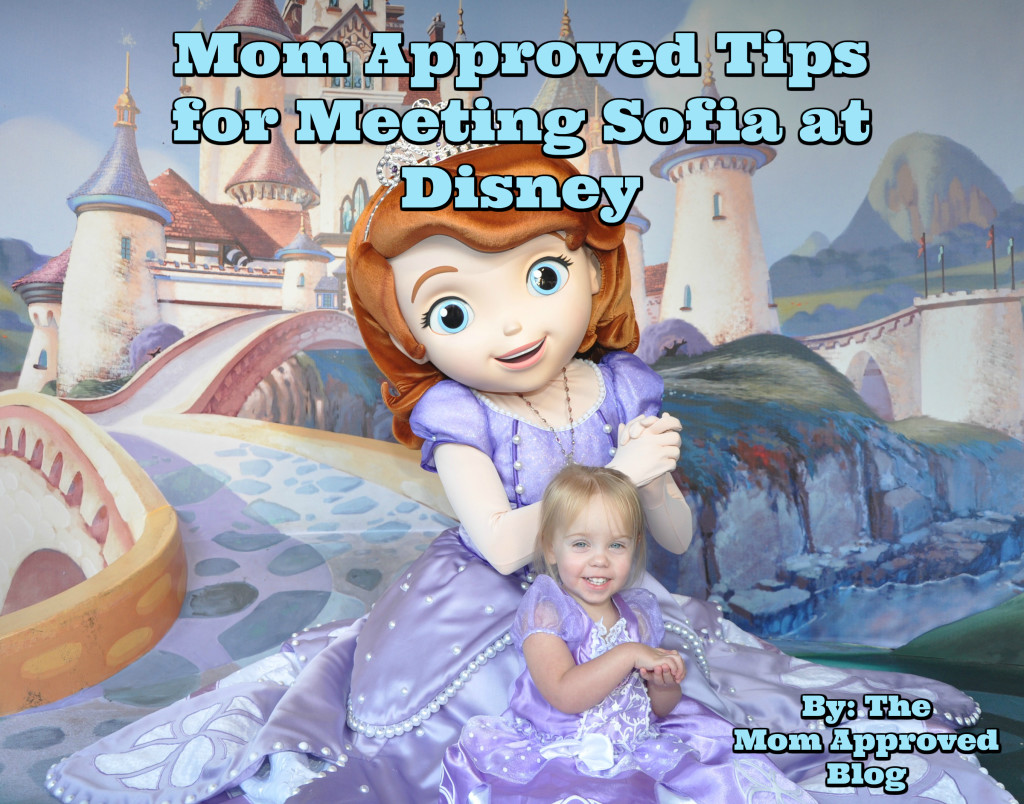 Last week we started Magical Meet Mondays, where each Monday I introduce you to one of my favorite characters for your next trip to Disney and give you some tips and where to meet them! Today I will tell you where to meet Sofia at Disney!
Is your little one desperate to meet our favorite princess from Enchancia?! There are several opportunities to meet Sofia at Disney! Unfortunately, a FastPass is not available for any of them.
One thing to note: Sofia is not a "face character" so she is not a "talking" character – but Sofia is very expressive, loads of fun and loves to giggle.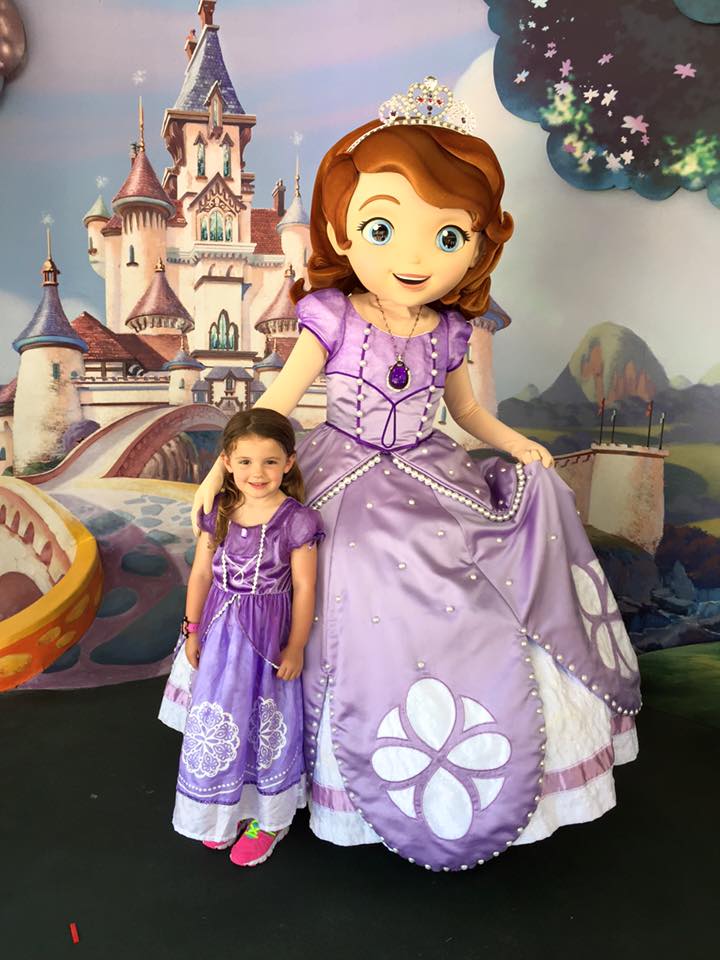 In Disney's Hollywood Studios Animation Courtyard, just outside the stage 5 door of the Disney Junior Live Show, Sofia has a covered, open air (not air-conditioned) meet and greet complete with an background Enchancia. She will sign autographs and there is a PhotoPass Photographer available.
Mom Approved tip: I think this character meet is super fun and a more quality meet than the character meal option. Lines can be fairly long, but are shaded with fans. Make sure to have something like a Sofia episode on your phone to help keep little ones happy!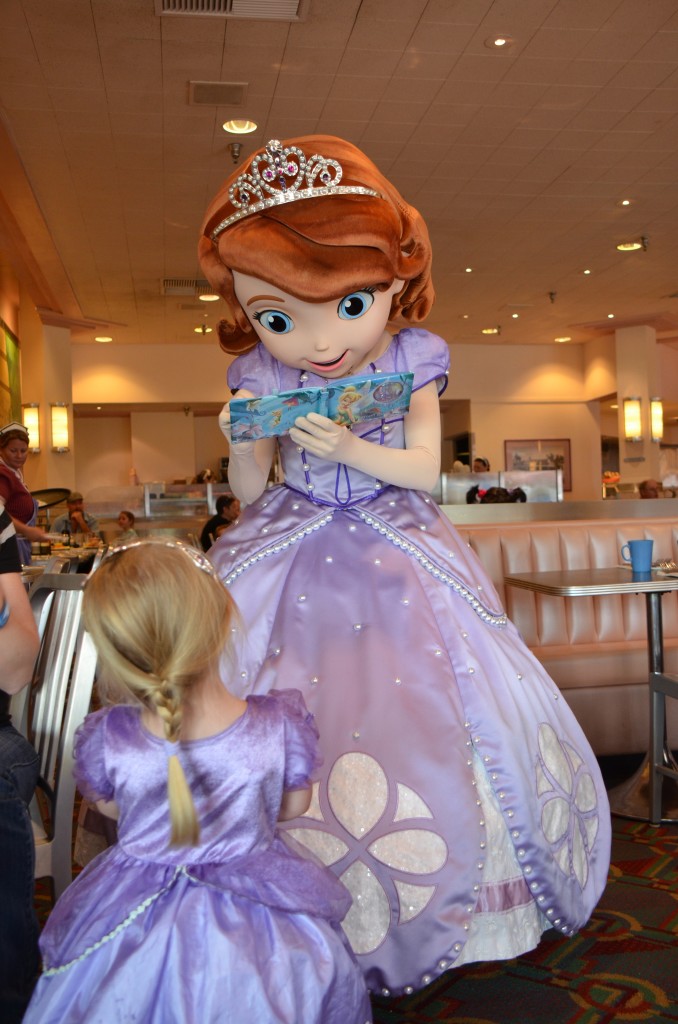 Another opportunity for your little ones to meet Sofia is at a Hollywood and Vine's Play n' Dine breakfast or lunch buffet. Our family loves this meal and if you can snag one of the highly coveted late lunch Fantasmic packages, you can get a great meal, dance party, character meet and a great seat for Fantasmic in one shot. We've done both meals, breakfast is less expensive but lunch is pretty tasty! If you are on the Disney Dining Plan, it is one table service credit. At this meal, Sofia (and her friends Handy Manny, Doc and Jake) will come to your table for pictures autographs and some fun – but you will need to take your own pictures as there is no PhotoPass photographer available.
Mom Approved Tip: You can not drag Sofia off to a blank spot on a wall to take a picture, so try and find a good angle and zoom in well with your camera to minimize strangers eating in your pictures! (This is my favorite place to meet Sofia at Disney with littles because of the air conditioning and the lack of lines!)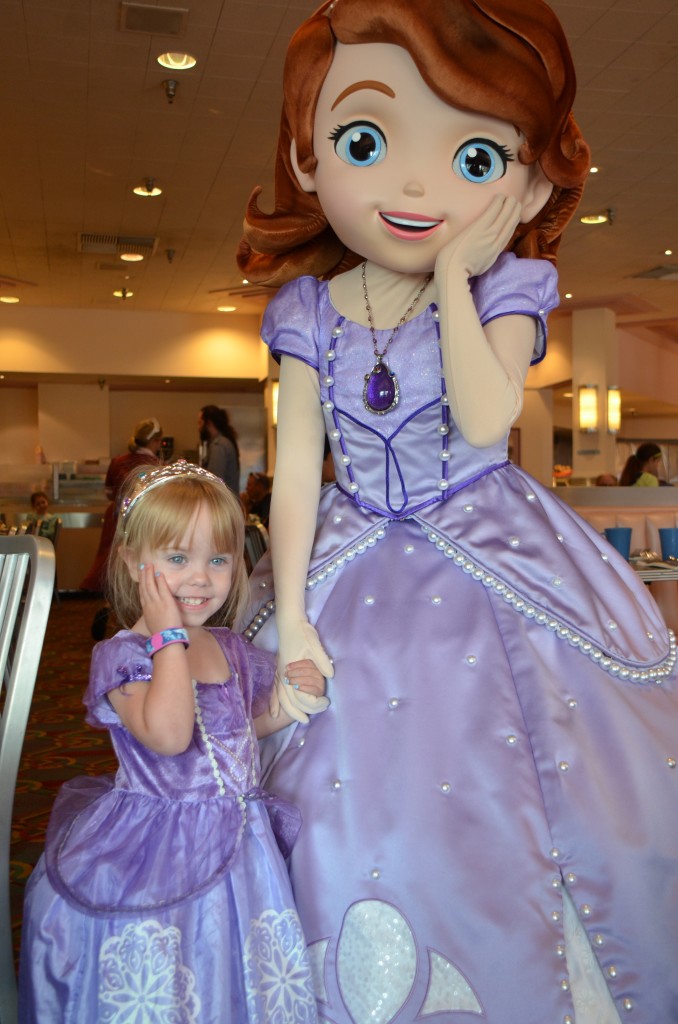 A not-so-well known way to meet Sofia is at Hollywood Studios only during evening extra magic hours (you must be a Disney resort guest for this option) at the Disney Junior Dance Party. The Disney Junior Live show stage becomes a fun dance party with Sofia and her Disney Junior friends (and tuxedo Mickey-my favorite!) No PhotoPass photographers are available so have your camera ready!
Mom Approved Tip: Don't forget to take short videos at character meets too so you can remember those sweet voices talking to their favorite characters!
Sofia loves little girls in costume. A matchy matchy dress like the Mom Approved Costumes Amulet Princess is sure to be a hit! My little one has danced with her every single visit! She is also is very good at getting shy kiddos to come out of their shell, so don't push your kiddo. Let Sofia do what she does best!
Your children can see a puppet version of Sofia the First at Disney Junior Live Show in air conditioned comfort at Hollywood Studios as well.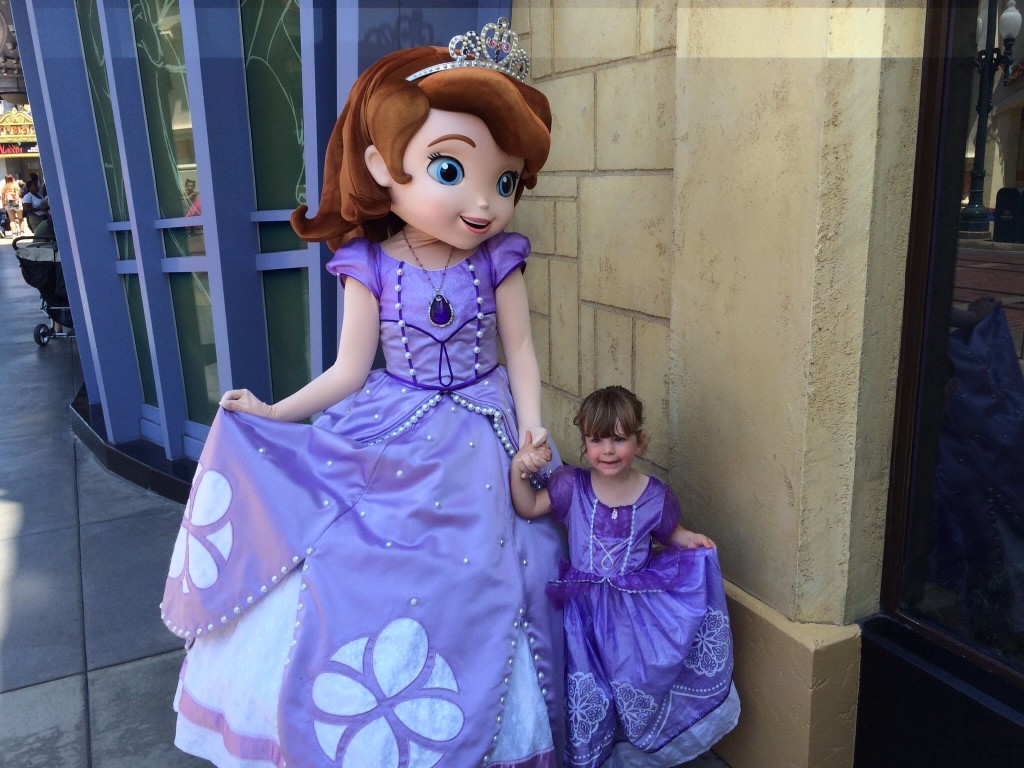 For you Disneyland people, you can find a Sofia meet and greet outside in Hollywood Land at California Adventure Park. Disneyland also offers the Disney Junior Live show as well!
Share This: