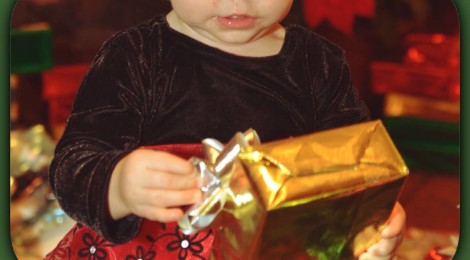 Mom Approved Ideas For Non Toy Gift Giving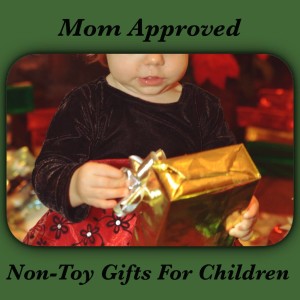 Toys are awesome.  Toys are important for development of motor skills and imaginations.  To a kid, new toys are even better.  There is nothing wrong with giving toys.
Too many toys however, can be problematic for both children and parents.  How many is too many?!   Unfortunately there is no magic number, as it is different for each family based on space and time constraints.  If you are wondering if that special little one in your life has too many toys, chances are they probably do.
Here is a Mom-Approved list of non toy gifts for children of all ages to help you find something to brighten their day.
Experiences: Tickets to a specific movie, concert, baseball game, ballet, monster truck rally, play, circus, air show, tour (we have a local ice cream factory), festival or Disney on Ice will give them something specific to look forward to.  Gift cards are awesome if you can't purchase the tickets yet-make sure you customize a coupon to go with it with a date or month on it to give them something SPECIFIC to look forward to.
KID APPROVED TIP: Get something small to go with the tickets to give them something tangible to play with now (like a hot wheel for a car show, or a ballerina Christmas ornament for tickets to a ballet).
Books:  Digital books are convenient and good if you know of a specific book for an older child or teenager, but little kids like to touch and feel things.  You can always call your local children's library and they will have good ideas for you, especially if you give them a few things your kiddo is interested in.
Preschoolers Picture books like Clifford, Little Golden Books, and Dr. Seuss
Kinder/1st/ Skippy Jon Jones and "Don't let the Pigeon" books
2nd/3rd  Choose your own adventure" type books, Shel Silverstein, and Magic Treehouse
4th/5th Harry Potter, Chronicles of Narnia, The Neverending Story
Have a reluctant reader? Comic style books (there are many non-superhero genre) are great! Your local librarian can help you find the right one!
Craft Supplies: Let their imaginations go wild.
Have a kid that likes to paint?  You can get a nice "grownup" set of brushes at the craft store for about $15. – Make sure to include a real paint palate and a gift card so they can pick out their favorite paint colors.
A plastic shoebox filled with feathers, pipe cleaners, sequins, pompoms, googly eyes, felt, beads, a pair of scissors and some clear craft glue will keep them busy for quite some time!
MOM tip: Glitter glue pens are fine, but for the love of all things holy, no loose glitter (without permission from mom)
Unpainted wood boxes/trunks (craft store) They can be painted, decoupaged, colored with markers, covered in stickers or blinged out and filled with their favorite treasures.
Scrapbook supplies: stickers, paper, stamps, hole punches.  Even preschoolers silly shaped hole punches. (Boys like to decorate too) Make sure to include a pack of cardstock notecards and envelopes
Teenagers love playdoh.  Seriously. One Halloween- they all picked the tiny jars of playdoh over candy.
Dress Up Clothes:  Obviously we are a BIG fan of this one, but I can't emphasize the benefits of this enough.  Dressing up transports them into a world of their own.  Pretend play develops imagination and creative thinking.
Let them mix a princess dress with a super hero cape or a construction helmet with a knight costume-see what they come up with.
Getting a quality, non-itchy, machine washable costume will ensure many hours of play!
Encourage them to think outside of the box.  (Reason #2,437 I love our dressups because they do not have a character's picture on a cameo- they can be anyone.  Take our Scottish princess- it can be Merida, a Renaissance costume, and my daughter calls herself Zarina the pirate fairy in it)
A pair of cowboy boots can be astronaut boots, winter gloves can be fireman gloves.  Mix and match different colors and items.
Kiddos as young as about 15 months love to dress up (babies love to see themselves look different)  One of the first dressups for children I suggest is a superhero cape and mask-ours are super soft and won't irritate- and it will grow with them until they are older.
Having a variety of items to mix and match and share with friends during playtime makes for hours of play and imagination building!
Costume jewelry is always a fun  (the more gaudy the better!) Have you seen our chunky jewelry?!?
If you have a girl, don't be afraid to get "boyish" costumes like a jedi, construction worker, fireman or dragon.  I even have a few little girls who love our muscleman chests with their superhero capes!
Have a good mix of accessories and props so they can create something wonderful.  Our wrist scarves, princess cone hats, and leg warmers are a great start!
Treats:  What do they love as a treat?  Not your everyday after-school snack, but an occasional treat they love?
Growing up when we went to Grandma's we got a yoo hoo and a Worther's butterscotch candy- a 6 pack of Youhoo and a bag of their favorite at-Grandmas candy would put a snile on their face.
Santa brought a case of rootbeer in glass bottles for my son, and it was one of his favorite gifts.
Science and Nature Discovery:  This is a one-size fits all kind of category!
Butterfly kits are good for boys and girls – Try the ones by Insect Lore
Fishing Pole (with a date to take them fishing, if you don't know most state or county parks do a "take me fishing" type event several times a year with people who can help both of you. No you don't have to keep them- catch and release is fun too!
Laminated identification charts/pocket guides/field guides/books for butterflies, snakes, birds, flowers, bugs  (National/state/local parks rangers, bookstores and amazon are a great resource for these!)
Camelback water backpack for hiking (they are just cool)
Uncle Milton and Insect Lore are 2 of great companies for nature kits and materials.
Nature-watch.com has a plethora of really cool stuff like a cloud identification kit, Owl pellets (they are sanitary-buy a $2 plastic bead sorting container so they can separate the bones) MOM note: DO this outside, break your own geodes- all kinds of neat stuff!
Bird Feeder and Seed
Binoculars, compass, a hiking stick.
Digital Camera: (Not those ones for preschoolers- a REAL one) You can get a relatively cheap, (or give them your old one) point and shoot digital camera, (or your old phone with no service) so you can see things from their prospective.  Kids as young a 4 or 5 can operate most point and shoots.  Teach them how to focus it and be ready to smile!
Memberships: to the zoo, local museum, or play place! Just make sure to include some tangible even if its small (for right now) like a small tube of plastic animals with a zoo membership if you are giving as a family gift. (an astronaut costume would go well with a family membership to the Johnson Space Center in Houston)
Flashlights: LED headlamps, flashlights, and lanterns are perfect for any child- there are flashlights with characters- just make sure if you have a little one that the batteries can only be accessed with a screwdriver.
Kitchen Fun: An apron of their very own.  You can make them or buy them.  You can have a matching one for mom, dad or grandma.  They can have flowers or darth vader on them.  Include either a recipe (and ingredients) or a box of brownie/cake mix and a colorful kitchen spatula of their own.  IF at all possible- include a coupon for a date to make said recipe.
Piggy Bank: Get them a fun piggy bank or a plain white one they can paint and start them out with a bit of change.
Bath Stuff: Bath Crayons, bubble bath, foamy soap, bath toys, bath bombs and fun soaps.
Encourage a play bath (in the middle of the afternoon, no washing required).
Give them a shower cap, a fun towel, or even for toddler girls a turbie twist.
MOM TIP: Some kids have sensitive skin, so be careful when you are buying bubble bath.   Just because it has lightning McQueen's picture on it and it's cheap, doesn't mean its kid safe or friendly-ask MOM.
Music: Harmonicas, ukulele, a cd of their favorite songs, finger cymbals, rain sticks, lessons, a recorder, bongos, itunes gift cards are good for older kiddos, but try for something tangible for the littles.
Umbrella and rainboots: There are lots of fun patterns and colors out there to teach them to play in the rain
Watch: Even if they can't tell time yet, it's just cool.  KID TIP: For age 10+ it needs to be a specific one they have picked out or it will never be worn because it will be lame.
SPECIAL NOTE: When buying toys, if it takes up over 2 square feet- please ask Mom & Dad first!!!!
Share This: